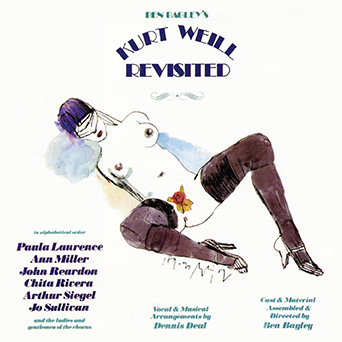 Kritzerland is proud to present the latest release in the Ben Bagley Revisited series:
BEN BAGLEY'S KURT WEILL REVISITED
Music by Kurt Weill
Lyrics by Maxwell Anderson, Fernay, Ira Gershwin, Yvette Guilbert, Langston Hughes, Alan Jay Lerner, and Ogden Nash
There are certain composers whose music never ages. Times and styles may change, but somehow certain music lives on because the voice of the composer somehow remains fresh and unique, seeming to defy time. Kurt Weill was one of those composers. He worked with extraordinary collaborators, including Bertolt Brecht, Maxwell Anderson, Langston Hughes, Ogden Nash, Ira Gershwin, Alan Jay Lerner, and produced such classics as The Threepenny Opera, Street Scene, One Touch of Venus, The Rise and Fall of the City of Mahagonny, Knickerbocker Holiday, Lady in the Dark, Lost in the Stars, and many others.
Ben Bagley's Kurt Weill Revisited was one of the most interesting in his long series of Revisitedalbums. As always with this series, Ben unearthed some great gems and of course we don't get any of the hits, which was never the point of these albums. He assembled a terrific cast for this one, including Paula Laurence, Ann Miller, John Reardon, Chita Rivera, Arthur Siegel, and Jo Sullivan, and Dennis Deal was responsible for the arrangements and orchestrations. The previous CD release was one of the few that did not have any extra material on it, so it was a fairly short run time of forty-three minutes. So, we decided to add our own bonus material. We have Lotte Lenya's 1930 recording of "Alabama Song," performed with The Three Admirals and conducted by Theo Mackeben and his Jazz Orchestra. It is nightmarish and wonderful. And the major bonus is a 1930 recording of selections from The Threepenny Opera in German with Lenya, Kurt Gerron, Willy Trenk-Trebitsch, Erich Ponto, Erika Helmke, with the Theo Mackeben and Lewis Ruth Band . These are historic recordings and have been cleaned up by mastering engineer James Nelson, and sound pretty amazing given their age. This all brings up the running time to close to seventy-five minutes.
And as with our other Bagley releases, we have spruced up the sound quite a bit, as the quality of the original LPs and their subsequent CD releases was never optimal, sound-wise. And, of course, the classic cover art is by the one and only Harvey Schmidt, whose paintings help make this series so unique.

KURT WEILL REVISITED is limited to 500 copies only and priced at $19.98, plus shipping. This is a PRE-ORDER – CDs will ship by the last week of March, but never fear, we've actually been averaging three to five weeks early in terms of shipping ahead of the official ship date.
Also note that your PayPal receipt is the only receipt you get – we don't send out confirmations beyond that.