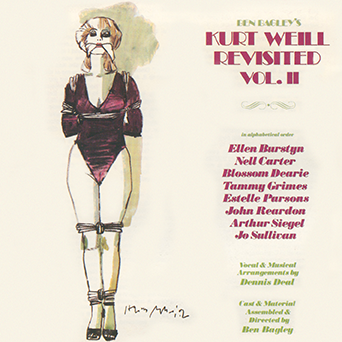 Kritzerland is proud to present the next release in our ongoing series of Ben Bagley reissues:

KURT WEILL REVISITED VOLUME II

Music by Kurt Weill
Lyrics by Maxwell Anderson, Bertolt Brecht, Ira Gershwin, Paul Green, Edward Heyman, Alan Jay Lerner, Ogden Nash

This follow-up to Kurt Weill Revisited is a true delight. Weill was an amazing composer, and this has songs from his early years to his later years, from Love Life, Johnny Johnson, The Firebrand of Florence, One Touch of Venus, Happy End, Huckleberry Finn, along with a few other rarities, with lyrics by some of the best lyricists ever. There are treasures galore in this fabulous collection of songs.

Bagley assembled his usual interesting and starry cast – this one includes Nancy Anderson, Ellen Burstyn, Nell Carter, Blossom Dearie, Tammy Grimes, Estelle Parsons, John Reardon, Arthur Siegel, and Jo Sullivan, and musical and vocal arrangements by Bagley regular Dennis Deal.

As always, we've really spruced up the sound, and we of course give you the great Harvey Schmidt artwork.

KURT WEILL REVISITED VOLUME II is limited to 500 copies only and priced at $19.98, plus shipping. This is a PRE-ORDER – CDs will ship by the third week of November, but never fear, we've actually been averaging three to five weeks early in terms of shipping ahead of the official ship date.

Also note that your PayPal receipt is the only receipt you get – we don't send out confirmations beyond that.