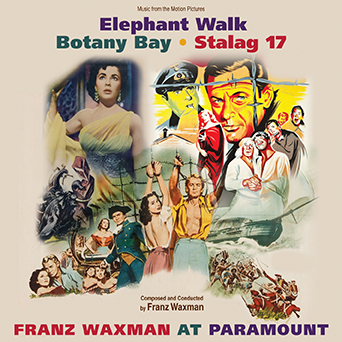 Kritzerland is proud to present a limited edition soundtrack CD release – three great film scores on one great CD:

ELEPHANT WALK/BOTANY BAY/STALAG 17 - FRANZ WAXMAN AT PARAMOUNT

Music Composed and Conducted by Franz Waxman

Franz Waxman at Paramount. One great composer, one great studio, and an astonishing batch of scores. If Waxman had written only Sunset Blvd. and A Place in the Sun for Paramount he would have been assured his place in the pantheon of great film composers. But he wrote many other fantastic scores for the studio as well, including Sorry, Wrong Number, Alias Nick Beal, Rope of Sand, The Furies, Dark City, Come Back, Little Sheba, Rear Window, Career, and the three scores we're offering on this world premiere CD release: Elephant Walk, Botany Bay, and Stalag 17. The films are as different as can be, but Franz Waxman brings his musical genius to each. For all three scores we present all of the surviving musical cues.

We begin our triple bill with Elephant Walk, a Paramount picture from 1954 starring Elizabeth Taylor, which featured an outstanding score by Franz Waxman. Right from the first chords of the "Prelude," its lush theme transporting us immediately into the world of the film, we know we are in the safe and brilliant hands of a composer at the top of his game. What follows demonstrates Waxman's usual adeptness at capturing mood, incident and characters, including his splendid dramatic action cue for the film's climactic "Elephant Stampede." While it's a shame that the entire score hasn't survived, the cues presented here – in beautiful-sounding stereo – are an excellent representation of Waxman's contribution to the film.

Next up is the 1953 Paramount film Botany Bay, starring Alan Ladd, James Mason, Patricia Medina, Cedric Hardwicke, and Murray Matheson. Waxman's "Prelude and Foreword" sets the tone of the film and its tale. From there he provides a textbook on film scoring, with adventure and drama on the high seas, with heroes and villains, with drama and suspense – all with the classic Waxman sound. Happily, the majority of the score cues have survived for Botany Bay – close to forty minutes of music, all in crisp, clear mono sound.

Stalag 17, the last of our Waxman triple bill, began life as a stage play. In 1953, it was brought to the screen by Paramount Pictures and director Billy Wilder. The film starred William Holden, who won an Oscar for his performance. Stalag 17 is one of the great prisoner-of-war films, right up there with The Great Escape and The Bridge on the River Kwai, both of which came later. For the film, Franz Waxman came up with a brief but perfect score, utilizing "When Johnny Comes Marching Home" as its basis. Otherwise, it's percussion and brief bits of scoring that work wonderfully well in the film. Again, Waxman's innate approach to material and his knowing when music is necessary and when it isn't is what made him one of the greatest film composers in the history of movies. The main title, with its propulsive drums and treatment of "When Johnny Comes Marching Home," is the perfect start to the film. We present the surviving tracks in mono, as they were recorded.

ELEPHANT WALK/BOTANY BAY/STALAG 17 – FRANZ WAXAN AT PARAMOUNT is limited to 1000 copies only. The price is $19.98, plus shipping.

CD will ship the last week of July, but preorders placed at Kritzerland usually ship one to five weeks early (we've been averaging four weeks).