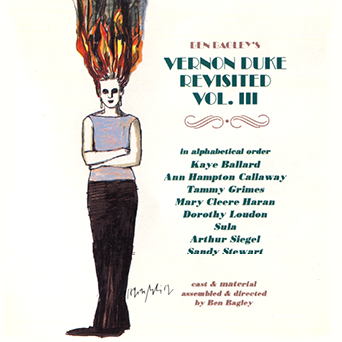 Kritzerland is proud to present the maybe could be final release in the Ben Bagley Revisited series:
BEN BAGLEY'S VERNON DUKE REVISITED VOLUME III
Music by Vernon Duke
Lyrics by Sammy Cahn, Howard Dietz, Ira Gershwin, E.Y. Harburg and E. Hartman, John Latouche, Jerome Lawrence and Robert E. Lee, and Harold Rome
Vladimir Dukelsky is certainly one of the most underrated composers in all of The Great American Songbook. Of course, he changed his name to Vernon Duke and for someone who had some very big hits over the years, mention his name to most people and they won't know who you're talking about. But anyone who wrote with such luminaries as Johnny Mercer, Ira Gershwin, Howard Dietz, Ogden Nash, Sammy Cahn, E.Y. Harburg is not exactly chopped liver.
His shows included Walk a Little Faster (which produced the classic "April in Paris"), Ziegfeld Follies of 1934 (which included "I Like the Likes of You"), Thumbs Up! ("Autumn in New York"), Ziegfeld Follies of 1936 ("I Can't Get Started"), Cabin in the Sky (which featured the amazing "Taking a Chance on Love"), Banjo Eyes, The Lady Comes Across, Jackpot, Sadie Thompson, Sweet Bye and Bye (which had a book by S.J. Perelman and Al Hischfeld!), Two's Company, and, of course, Ben Bagley's The Littlest Revue. And his little-known classical output included three symphonies, a piano concerto, a cello concerto, a violin concerto, several ballets, including two used in the film The Goldwyn Follies.
Vernon Duke Revisited Volume III has a marvelous cast, including Tammy Grimes, Dorothy Loudon, Kaye Ballard, Mary Cleere Haran, Ann Hampton Callaway, Sandy Stewart, Arthur Siegel, and more. Rarities included are all gems and wonderful discoveries and we really do have to be grateful to the self-described "incurably insane" Ben for giving the gift of three Vernon Duke Revisited albums. As we've done for all these releases, we've considerably spruced up the sound for this new release. And the cover and interior art is, of course, by the great Harvey Schmidt.
VERNON DUKE REVISITED VOLUME III is limited to 500 copies only and priced at $19.98, plus shipping. This is a PRE-ORDER – CDs will ship by the second week of April. As you probably know, our pressing plant has been very slow for the past six months, for which we apologize, but I think they're back on track now.


Also note that your PayPal receipt is the only receipt you get – we don't send out confirmations beyond that.