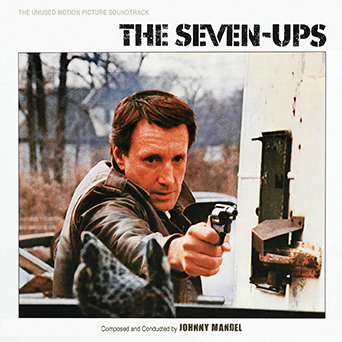 Kritzerland is proud to present a new soundtrack CD release – a jam-packed Johnny Mandel spectacular:

THE VERDICT

THE SEVEN-UPS (unused score – complete for the first time)

and the world-premiere release of suites from

M*A*S*H – THE TELEVISION SERIES

Music Composed and Conducted by Johnny Mandel

Johnny Mandel has written many classic scores over the years, including The Americanization of Emily, The Sandpiper (which yielded the hit song, "The Shadow of Your Smile" for which he won an Academy Award), Harper, The Russians Are Coming, The Russians Are Coming, Point Blank, Pretty Poison, MASH, The Last Detail, Freaky Friday.Agatha, Caddyshack, and Deathtrap, to name a few. Here we present three great examples of Mandel magic.

The Verdict, with a screenplay by David Mamet, based on a novel by Barry Reed, tells the story of a once-promising attorney who was framed for jury tampering and who is now an alcoholic reduced to ambulance chasing. He takes on a case, and that case becomes a life-changer for him and a chance for redemption. Brilliantly directed by Sidney Lumet, with Paul Newman turning in one of his all-time best performances, The Verdict was a box-office and critical hit, garnering raves for Newman and the exemplary supporting cast, which included Charlotte Rampling, Jack Warden, James Mason, Milo O'Shea, Lindsay Crouse, and Wesley Addy.

For The Verdict, Mandel wrote a very short, very sparse, but hugely effective score. Running under fourteen minutes, but placed perfectly in the film, it's amazing how such a little amount of music can still work so powerfully and make such an impact. Sometimes less is more and Mandel's score for The Verdict is a perfect example of it.

Rare is the film composer who hasn't had a score replaced at one time or another, especially from the 1970s on. And with The Seven-Ups it happened to Mandel. Producer Philip D'Antoni had already had a huge success with the film Bullitt, starring Steve McQueen, and The French Connection, starring Gene Hackman, Roy Scheider, and Tony Lo Bianco. For The Seven-Ups, D'Antoni brought back Roy Scheider and Tony Lo Bianco to star, and populated the film with excellent New York character actors.

Mandel turned in a terrific score, but it was very different in style to the score Don Ellis had done for D'Antoni's The French Connection. In the end, D'Antoni went back to Ellis, who provided an excellent score that was much more in keeping with the feel of The French Connection. But thanks to the new Twilight Time Blu-ray, one can see exactly how the film would have played with Mandel's score and, as always, that's fascinating to watch. Much of it works really well and at times it seems to give the film an emotional underpinning that the Ellis score never does. As a listening experience, the Mandel score is tops.

The previous CD release only had about nineteen minutes of the Mandel score – here, for the first time, you get the complete score, close to forty minutes. It's a major score from a great composer.

Two years after the release of the 1970 smash hit film, MASH, writer/producer Larry Gelbart developed M*A*S*H for television. Starring Alan Alda, Wayne Rogers, MacLean Stevenson, Gary Burghoff, Loretta Swit, Larry Linville, and others, M*A*S*H hit the airwaves on September 17, 1972. While it would undergo several major cast changes over its eleven seasons, the show was must-see TV right through to its final episode, "Goodbye, Farewell, and Amen," which aired on February 28, 1983. That extended finale was, at the time, the most-watched and highest-rated single television episode in U.S. television history, with a record-breaking 125-million viewers.

As with the film, Johnny Mandel provided some of the scores for the TV show, along with his iconic title theme. For this world-premiere release, we feature his main and end title from the show, plus suites from six season one episodes.

THE VERDICT/THE SEVEN-UPS/M*A*S*H is limited to 1000 copies only and priced at $19.98, plus shipping. CDs will ship by the first week of June, but never fear, we've actually been averaging three to five weeks early in terms of shipping ahead of the official ship date.

ATTENTION INDIEGOGO CONTRIBUTORS

: IF YOU WISH TO RECEIVE THIS RELEASE YOU MUST OPT-IN BY SENDING US AN E-MAIL – SEND TO kritzerland@gmail.com. IF YOU DO NOT WISH TO RECEIVE IT, YOU DON"T NEED TO DO ANYTHING. IF YOU ARE NOT AN INDIEGOGO CONTRIBUTOR, ORDER AS YOU NORMALLY WOULD. THANK YOU.