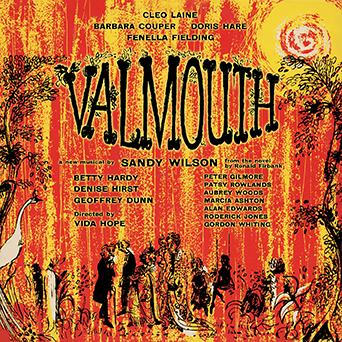 Kritzerland is proud to present a cast album reissue:

VALMOUTH

Book, Music, and Lyrics by Sandy Wilson

Sandy Wilson burst on the theater scene in a rather big way, with his fun and fancy-free pastiche musical, The Boy Friend, which opened at the Players' Theatre in 1953. Such was its success there, that in January of 1954 it was moved to Wyndham's Theatre in the West End, where it was a smash hit, running over 2,000 performances. The show was then taken to Broadway later that year, where it ran for over 480 performances and introduced a new soon-to-be star to New York – Miss Julie Andrews.

Wilson's follow-up show was The Buccaneer, which opened at the Lyric Hammersmith in 1955, where it had a brief run, and that was followed by the 1958, the musical comedy Valmouth, based on the novel by Ronald Firbank. Valmouth, like The Buccaneer, was fated to not repeat the success of The Boy Friend, despite a truly fun and tuneful score by Wilson. It would run even less performances than The Buccaneer. But the show and score developed a cult following, thanks to its fun cast album, which starred Cleo Laine, Barbara Couper, Doris Hare, and Fenella Fielding. It has since been revived a couple of times, to limited success.

For this reissue, we have completely remastered the sound, and there are liner notes by set and costume designer Tony Walton, newly commissioned for this release. Sandy Wilson was a treasure – his gift for melody was amazing and it's sad that he never again achieved the success of The Boy Friend, but each score he wrote, including the Boy Friend sequel, Divorce Me, Darling, is a delight. Sandy Wilson passed away in 2014 at the ripe old age of ninety.

VALMOUTH is limited to 500 copies only and priced at $19.98, plus shipping. This is a PRE-ORDER – CDs will ship by the last week of January, but never fear, we've actually been averaging three to five weeks early in terms of shipping ahead of the official ship date.

Also note that your PayPal receipt is the only receipt you get – we don't send out confirmations beyond that.