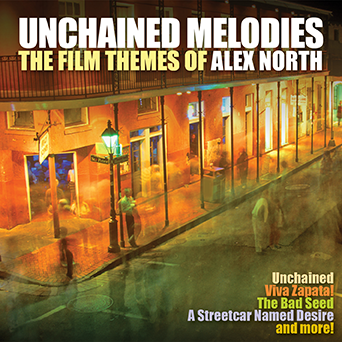 Kritzerland is proud to present a new film music CD release:

UNCHAINED MELODIES
The Film Themes of Alex North

Composed and Conducted by Alex North

Unchained Melodies – The Film Themes of Alex North covers the first seven years of his film scoring journey. And what a first seven years it was, creating one memorable score after another, beginning with his game-changing score for A Streetcar Named Desire. His was a completely unique and fresh voice into the world of film music, and he followed Streetcar with other great scores, including Les Miserables, The Rose Tattoo, Viva Zapata!, Desirée, The 13th Letter, The Bachelor Party, The Racers, The Bad Seed, I'll Cry Tomorrow, Stage Struck, and, of course, the film that contained one of the biggest pop hits of all time, Unchained, which brought forth the immortal "Unchained Melody."

Of course, North's glory years were still to come, with such classic and iconic scores as Spartacus, The Children's Hour, All Fall Down, Cheyenne Autumn, Who's Afraid of Virginia Woolf, The Shoes of the Fisherman, Bite the Bullet, and many others, including his great score for Rich Man, Poor Man on television. But he was busy composing right to the very end, with Under the Volcano, Prizzi's Honor, The Dead, Good Morning, Vietnam, and his final film, The Last Butterfly. Not to mention his legendary discarded score for Stanley Kubrick's 2001: A Space Odyssey. He was nominated for an Oscar fifteen times, never taking home the prize. But in 1986, that oversight was rectified when the Academy gave him an honorary Oscar.

We lost the brilliant Alex North on September 8, 1991, shortly after this album was released on CD by Bay Cities. For this reissue, we've done further work on cleaning up the sound, and we've included a wonderful bonus track of North's classical work, Holiday Set, close to twenty minutes in length.

Alex North's music was inventive, unique, original, and certainly influential from start to finish. There was simply no one like him. So, here are the stunning film themes of Alex North, a celebration of one of the finest film composers who ever lived.

UNCHAINED MELODIES – THE FILM THEMES OF ALEX NORTH is limited to 500 copies only and priced at $19.98, plus shipping. Please note: This is a PRE-ORDER. CDs will ship by the second week of August, but never fear, we've actually been averaging three to five weeks early in terms of shipping ahead of the official ship date. Also note that your PayPal receipt is the only receipt you get – we don't send out confirmations beyond that.