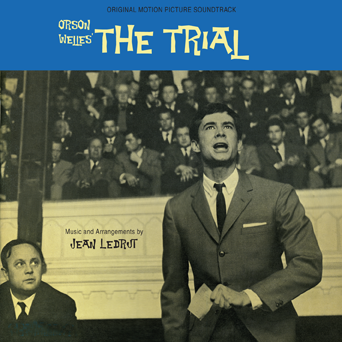 Kritzerland presents one of its final two new limited edition CD soundtracks for 2011:
THE TRIAL
Music and Arrangements by Jean Ledrut
In 1962, Orson Welles brought The Trial to the screen in what he himself called "the best film I ever made." Whether one agrees with that assessment or not, The Trial is Welles at his Wellesiest, with brilliant imagery and atmosphere so thick you can cut it with a knife. Filmed in gorgeous black-and-white, featuring a screenplay by Welles, and incredible performances by Anthony Perkins as the persecuted Joseph K., Romy Schneider, Welles, Jeanne Moreau, Akim Tamiroff, and Elsa Martinelli, The Trial truly captures the Kafka spirit while also being uniquely Wellesian. The film is a nightmare of paranoia and persecution, along with unexpected moments of Wellesian humor. It is an astonishing film, where every component comes together to create a world that is bleak, desolate, and ultimately futile.
One of the elements that contributes heavily to the atmosphere and feeling of the film is the score by Jean Ledrut, using both original music and adaptations of Tomaso Albinoni's stunning and iconic "Adagio in G minor." Ledrut only scored a handful of films, including Abel Gance's 1960 film The Battle of Austerlitz. Ledrut's score relies heavily on variations of the Albinoni "Adagio," as well as some wonderfully atmospheric original cues. There are several jazz-flavored pieces, as well (played by the great jazz pianist and composer Martial Solal, he of Breathless fame), and it all works splendidly, especially as a listening experience.
The Trial was originally released on both an EP and LP. The latter is one of the rarest of all soundtrack LPs. The CD is mastered from a quarter inch tape source in excellent condition.
This release is limited to 1000 copies only. The price is $19.98, plus shipping. CD will ship the third week of January – however, never fear, preorders placed directly through Kritzerland usually ship one to five weeks earlier (we've been averaging four weeks early).