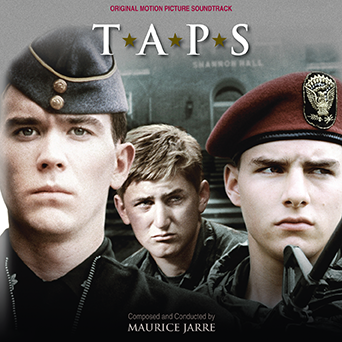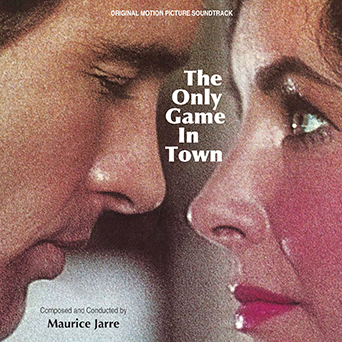 Kritzerland is proud to present a new limited edition release – two great scores on one CD:
TAPS
and
THE ONLY GAME IN TOWN
Composed and Conducted by Maurice Jarre
In 1981, Maurice Jarre was hired to score Taps, a Twentieth Century-Fox film, directed by Harold Becker, starring George C. Scott and an pretty incredible array of up and coming young talent, including Timothy Hutton, Sean Penn and Tom Cruise. Taps was a hit with both critics and audiences – a taut and tense story of a group of cadets who take over their military academy instead of allowing it to be closed. The acting from everyone was superb, and Becker's direction of the screenplay by Robert Mark Kamen, James Lineberger and Daryl Ponsican (from the novel Father Sky by Devery Freeman) is simple and assured. Tying it all together is Jarre's wonderful score. Many cues are sparsely scored for trumpet, piano and percussion to excellent effect, and the other cues are used carefully throughout the film and help give the film its tension, emotion and texture.
A decade earlier, Jarre was hired to compose the score for what would be director George Stevens's final film – the 1970 romantic comedy/drama The Only Game in Town. The two powerhouse stars were Elizabeth Taylor (reunited with Stevens, with whom she'd worked to great success in A Place in the Sun and Giant) and Warren Beatty (his first film after Bonnie and Clyde).
The resulting film was not successful with either critics or audiences. It opened, had a brief run, and disappeared. But all these years later, thanks to the recent Twilight Time Blu-ray release, we get to finally reassess the film, which, as it turns out, is pretty entertaining – not perfect by any means, but with some wonderful dialogue, star-power performances from Taylor and Beatty, and George Stevens's usual elegant direction.
For the film, Maurice Jarre came up with a truly great score. Beginning with a lonely trumpet leading directly into an exciting and jazzy "Vegas" feel, leading back to a melancholy duet for sax and trumpet (the film is all about loneliness, connections missed or made, and has a pervasive feeling of melancholy), Jarre's score compliments the movie perfectly.
Taps was previously released on CD on Varese Sarabande as a limited edition that sold out quickly. This is the premiere release for The Only Game in Town – we present all the cues that were usable, about twenty minutes' worth, but, thankfully, it's most of the score and is fully representative of the cues Jarre wrote.
Taps/The Only Game in Town is limited to 1000 copies only and is priced at $19.98, plus shipping.