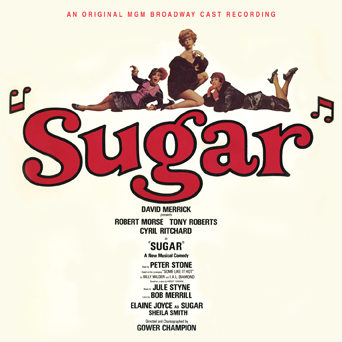 "DOIN' IT FOR SUGAR"
KRITZERLAND IS VERY PROUD TO PRESENT A SPECIAL 2 CD LIMITED EDITION:
SUGAR
Original Cast Album
Music by Jule Styne Lyrics by Bob Merrill
Book by Peter Stone
Based on the screenplay Some Like It Hot
By Billy Wilder and I.A.L. Diamond
Sometimes timing is everything. If, for example, Sugar, a musical based on a beloved film comedy, with two great male starring roles, directed by an amazing director/choreographer, had opened not in April 1972 but in April 2001, the year another musical based on a beloved film comedy, with two great male starring roles, directed by an amazing director/choreographer, my guess is it would have been a smash hit and run for a very long time. But The Producers had the timing and Sugar didn't.
Sugar had the misfortune to open at a time when the musical theater was going through great change – as Time magazine critic T.E. Kalem put it in his review of Sugar: "Sugar is almost a textbook case of a musical born after its time. It may well enjoy great wads of audience favor. But in the past three years Company and Follies have altered the critical perspective by providing a musical form that is spare, intelligent, ironic, mature and capable of sustaining three-dimensional characters." By 2001, audiences, after years of spare, intelligent, ironic, mature musicals, were ready, willing, and more than able to embrace on old-fashioned nothing-on-its-mind-but-laughs-and-entertainment musical like The Producers. But in 1972, Sugar, despite its non-stop hilarity and tuneful Jule Styne/Bob Merrill songs, seemed like a bit of a dinosaur, at least to critics. The book was deemed clunky and the score uninspired. And maybe it seemed that way back then. Now, it seems a model of musical comedy craftsmanship. From the first notes of the overture you know it's a Jule Styne score – and what an overture it is, classic Styne all the way, with great tunes, one after another, all orchestrated by the wonderful Philip J. Lang. The songs are clever and fun and occasionally laugh out loud funny – it's a real musical comedy score, the kind they don't write any more. The performances are stellar, with great work from stars Robert Morse, Tony Roberts, Elaine Joyce, and Cyril Ritchard.
Sugar was originally released on United Artists records. It was then issued on CD in 1999 by Ryko (the Ryko is long out of print and bringing fairly high prices). For this release we pulled all the tapes from the MGM vaults. As was the case with Promises, Promises, the first thing we found was that the Ryko version was not the original album mix, but a remix that simply attempted to ape the original album mix. The original album masters were there, along with all the sixteen-track session tapes. After listening to the album masters, we couldn't believe how much swimmy, washy reverb was used on that original mix (and on the CD released by Ryko). It was the fashion back then, but this was just about the heaviest reverb we'd ever heard on a cast recording. It robbed the orchestra of detail and the vocals sounded like they were in a huge garage. The album masters did, however, sound better than the previous CD release.
The sound on the sixteen-track session tapes was astounding. Yes, it was dry, and yes it needed some space added, but the recording itself and the way the band and performers sounded was so crystal clear and beautiful and brassy that it took no more than five seconds to realize that we wanted to do what we did with Promises, and offer an alternate new mix along with the original album mix on CD for the first time.
Remixing this score was a particular joy. Suddenly we were hearing wonderful orchestral details we'd never heard before – we placed the instruments a little differently in the soundstage for optimum clarity, and the vocals sound much more present and are no longer occasionally getting beaten up by the band the way they were in the original. So we hope it will be fun to hear this alternate mix with a lot less artificial processing – we think it gives the score a whole new vibrancy and vitality as well as crystal clarity.
This release is limited to 1000 copies only. We've priced this 2 CD set at our normal 1 CD price of $19.98 plus shipping.
CD will ship by the second week of October – however, preorders placed directly through Kritzerland usually ship one to five weeks earlier (we've been averaging four weeks early).