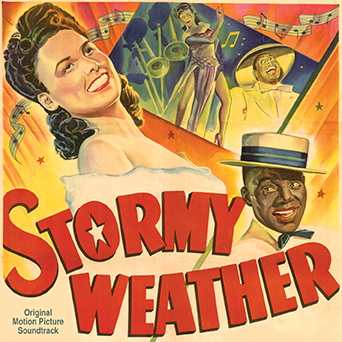 Kritzerland is proud to present a new limited edition soundtrack release – a landmark soundtrack to a classic film musical, presented complete for the first time on two CDs for a one-CD price:

STORMY WEATHER

Stormy Weather, Twentieth Century Fox's lavish 1943 film musical was really a groundbreaking, courageous production. With its all-black cast, and scintillating vaudeville style, the film eschewed plot for song-and-dance extravagance. The list of talent was and is truly mind-boggling: Lena Horne, Bill "Bojangles" Robinson, Cab Calloway, "Fats" Waller, Ada Brown, Dooley Wilson, The Nicholas Brothers, Babe Wallace, Mae Johnson, Katherine Dunham and her beautiful dance troupe and many others. Critics and audiences alike were stunned and delighted by the sheer parade of non-stop musical excellence. In fact, the film's brief running time of less than eighty minutes contains over seventy minutes of music. Lena Horne's ethereal, gorgeous voice lends an unforgettable purity to her renditions of "There's No Two Ways About Love" and the title song, "Stormy Weather." The inimitable "Fats" Waller delivers the definitive "Ain't Misbehavin'" and a superb duet with Ada Brown called "That Ain't Right." Cab Calloway sashays and cavorts through "Geechy Joe" and "Jumpin' Jive." Bill Robinson bends the mind with his agility at age 65, and Mae Johnson does a great "I Lost My Sugar in Salt Lake City."

Stormy Weather was originally released on CD back in 1993 by Arista Records, and has long been out-of-print. That release was not complete, but did contain a few fun bonus tracks. For this new, definitive release, we've got it all – all the songs (here full length as recorded, where they were frequently edited in the film), all the incidental music (save for one seven-second bit of scoring for which an overlay couldn't be found), and in addition to the previously found additional material, we've unearthed four more songs that were recorded for but not used in the film. CD 1 contains the complete film soundtrack of around seventy-eight minutes' duration. CD 2 contains all the bonus material. The sound is excellent mono, and this is an album every serious film score collector will want, and an album that any musical theatre aficionado will need to have, as well as any fan of some of the greatest entertainers show business ever had. We're releasing this in conjunction with the new Twilight Time Blu-ray of the film, which we recommend highly.

The world will never see the like of these performers or this kind of music again. So celebrate the glory that is Stormy Weather on this great new two-CD set. You'll be tappin' your toes and hummin' along for sure.

Stormy Weather is limited to 1000 copies only and the two-CD set is priced at $19.98, plus shipping. CDs will ship by the second week of April. However, never fear – on average we usually ship two to four weeks ahead of the official ship date.
(Click on cover for enlarged version)
• Click on titles below to hear a song sample:

Disc 1

Stormy Weather – Main Title
Rang Tang Tang/My, My, Ain't That Somethin'
Memories/Victory March (including Over There/
Columbia, the Gem of the Ocean, Bugle March/
Mademoiselle from Armentieres)/Memories II/
The Darktown Strutter's Ball
Margie/There's No Two Ways About Love
Ja-Da
"Walkin' the Dog" (vocal – Bill "Bojangles" Robinson)
Bright Eyes
• "There's No Two Ways About Love"
(vocal – Lena Horne)
There's No Two Ways About Love (piano intro)
"The Cakewalk"
(including At a Georgia Camp Meeting/
De Camptown Races)
"Linda Brown" (vocal – The Tramp Band)
"Moppin' and Boppin'"
"That Ain't Right"
(vocal – "Fats" Waller & Ada Brown)
• "Ain't Misbehavin'" (vocal – "Fats" Waller)
Memories III
• "Diga Diga Do" (vocal – Lena Horne)
• "African Dance"
Memories IV/Dah, Dat, Dah
"I Lost My Sugar in Salt Lake City"
(vocal – Mae Johnson)
Nobody's Sweetheart
I Lost My Sugar in Salt Lake City/My, My Ain't That Somethin'/Dark Blues
Nobody's Sweetheart II
"I Can't Give You Anything But Love"
(vocal – Lena Horne & Bill "Bojangles" Robinson
Memories V
"Geechy Joe" (vocal – Cab Calloway)
There's No Two Ways About Love (instrumental)
• Stormy Weather (extended sequence)
(vocal – Lena Horne)
"There's No Two Ways About Love" (reprise)
(vocal – Cab Calloway, Bill "Bojangles" Robinson & Lena Horne)
"My, My, Ain't That Somethin'"
(vocal – Bill "Bojangles" Robinson)
• "The Jumpin' Jive" (vocal – Cab Calloway)
"My, My, Ain't That Somethin'/"Stormy Weather"
(reprise and Finale)
(vocal – Bill "Bojangles" Robinson,
Cab Calloway & Lena Horne)
CD 2 ~ Bonus Tracks
Body and Soul
"Good for Nothin' Joe" (vocal – Lena Horne)
"Ain't Misbehavin'" (alternate)
(vocal – "Fats" Waller)
"I Lost My Sugar in Salt Lake City" (alternate)
(vocal – Mae Johnson)
"Alfred the Moocher" (vocal – Cab Calloway)
"My, My, Ain't That Somethin'"
(reprise – song version)(vocal – Lena Horne)
"Stormy Weather" (song version)
"Nearer to You" (vocal – Cab Calloway)
"Nobody"
• "Sunday in Savannah" (vocal – Cab Calloway)
"Shadrack" (vocal – Bill "Bojangles" Robinson)