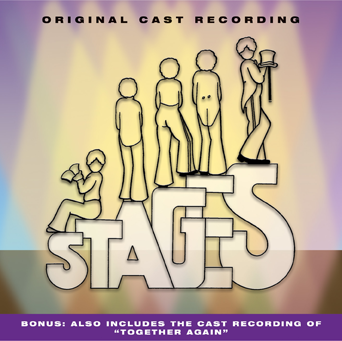 A "two-fer" of cast albums of musical comedies about show business by the writer of the First Nudie Musical.
STAGES is a musical about a college theatre arts department, where we follow one group of students from the time they arrive until the time they leave. It was originally created for the 50th anniversary of the theatre department of Los Angeles City College. This cast album was originally released in 1979 on Varese Sarabande Records to coincide with the show's transfer to its year-long hit run at the Matrix Theatre in L.A.
The cast of STAGES features Bruce Kimmel, Randi Kallan, Linden Waddell, Michael Byers, Suzanne St. Marie, Colleen McLean, Alan Abelew, M'Lisa MacLaren, Sammy Williams, Phillip Clark, Jeffrey Kramer, and Edwin T. Morgan.

TOGETHER AGAIN, included as a "bonus" on this CD, was the subsequent show written by STAGES author Bruce Kimmel (creator of THE FIRST NUDIE MUSICAL). It too premiered at LACC, telling another backstage story, this time of a comedy troupe attempting a reunion show. Cerberus Records released this original cast album of the L.A. professional premiere of the show.
The cast of TOGETHER AGAIN features Bruce Kimmel, Alan Abelew, Deborah Tilton, Jeff Maxwell, Deborah Moradzadeh, Rick Waln, and Penny Peyser.