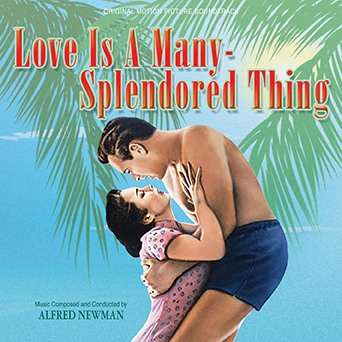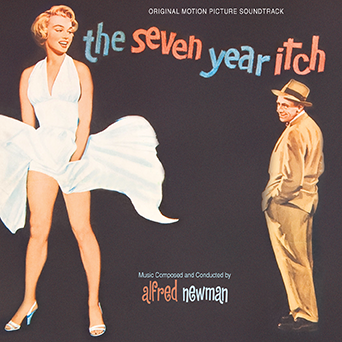 Kritzerland is proud to present a great new limited edition soundtrack – two movies on one CD:
LOVE IS A MANY-SPLENDORED THING/
THE SEVEN YEAR ITCH
Music Composed and Conducted by Alfred Newman
Love Is A Many-Splendored Thing was a big, glossy, uber-romantic tale of an illicit interracial love affair back in the days when that sort of thing was rather scandalous. The screenplay was by John Patrick (from the novel by Han Suyin), who had won a Pulitzer Prize for adapting The Teahouse of the August Moon for Broadway. To direct, producer Buddy Adler hired the wonderful director Henry King, a Fox regular who'd helmed such pictures as The Song of Bernadette, Captain from Castile, A Bell for Adano, The Gunfighter, David and Bathsheba, The Snows of Kilimanjaro, King of the Khyber Rifles and many others. The stars were starry indeed – William Holden and Jennifer Jones. The film was a box-office and critical success, and audiences loved the story, the performances, and the lush cinematography of Leon Shamroy. The film was nominated for a whopping eight Academy Awards, including Best Picture and Best Actress, and it won for Best Costume Design, Best Song (by Sammy Fain and Paul Francis Webster) and, best of all, Best Music, Scoring of a Dramatic of Comedy Picture.
Alfred Newman's score is one of the most romantic and beautiful scores ever written. Newman's stunning variations on the Fain and Webster song, along with his own gorgeous secondary themes creates a unique atmosphere with a swirling tenderness that's almost indescribable. The music for Love Is a Many-Splendored Thing aches and roils with love, loneliness, lost feelings, and confused hearts. It's a glorious listening experience and one of Newman's crowning achievements in film scoring, and that's saying something given the number of masterpieces he wrote during his long and illustrious career.
Just a few months previously, before audiences would swoon to Love Is a Many-Splendored Thing, Billy Wilder's film version of George Axelrod's hilarious play, The Seven Year Itch, had audiences rolling in the aisles. With original star Tom Ewell repeating his Broadway role and the incandescent and stunning Marilyn Monroe as "The Girl," The Seven Year Itch was a huge hit, due in part to the iconic image of Monroe standing on a subway grating with her dress (designed by Travilla) blowing up – it was not possible to escape that image that year, and it's been hard to escape it ever since. As the tagline to the poster read: It TICKLES and it TANTALIZES, and boy did it ever. And equally as tantalizing is the score by Alfred Newman. Newman's score is monothematic, with many variations on the same theme – "The Girl Upstairs." It also has a classic Newman main title that gets things off to a rousing start.
Love Is a Many Splendored Thing was released previously by Varese Sarabande and was a quick sellout. For this release, we've remastered it and moved two early source cues, one of which is by Leigh Harline, to after the film score proper, giving the actual early score cues a bit more prominence. The Seven Year Itch is making its world premiere on this CD. We've included the main title, and several variations on "The Girl Upstairs," which represents most of what was usable from the somewhat problematic original materials. The entire program is presented in that unparalleled Fox stereo sound.
Love Is a Many-Splendored Thing/The Seven Year Itch is limited to 1000 copies only. The price is $19.98, plus shipping.

CDs are in stock and will ship within a day or two.