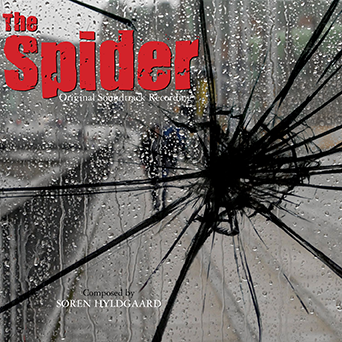 Kritzerland is proud to present a new limited edition CD release:

THE SPIDER

Composed by Soren Hyldgaard

Nordic Noir. Wallander. Steig Larsson's Millenium Trilogy (The Girl With the Dragon Tattoo, The Girl Who Played With Fire, The Girl Who Kicked the Hornet's Nest). The Killing (Forbrydelsen) from Denmark, which was a sensational hit, spawning a not nearly as effective American version. The Bridge (Bron) a Danish/Swedish production, again spawning a not nearly as effective American version. And then there was the wonderful Danish miniseries, The Spider (Edderkopen) from 2000.

The series was set in post World War II Copenhagen, with the country still recovering from the end of Nazi occupation, with gangsters, corruption, and the black market everywhere. It's a large, tangled spider's web of intrigue, deceit, honor, love, corruption and family, played out against an atmosphere thick with wonderful period detail in the settings and costumes. And what really ties the six brilliant episodes together is the wonderful and evocative score by Soren Hyldgaard.

Beginning with the mesmerizing main title music, which draws you immediately into a musical spider's web, the score is so multilayered, varied and rich in its thematic material, it almost plays like a noir tone poem. Hyldgaard is that rare thing in film music today, a composer who is not afraid of melody, and his melodies in The Spider are sublime and unforgettable. His music is part of the fabric of the series and propels us from episode to episode, tying together all the various plots and subplots. The music is beautifully played by the City of Prague Philharmonic Orchestra.

We are thrilled to bring his stunning score to The Spider to CD. There was an earlier CD release in Denmark, which quickly went out of print – that CD was about forty-four minutes duration. This CD runs close to seventy-nine minutes and is complete save for some repeated themes and cues. It's a major score with occasional echoes of Herrmann, Goldsmith and John Barry, but somehow remaining its own unique musical landscape. This CD was mastered from the composer's complete score tapes.

The Spider is limited to 1000 copies only and is priced at $19.98, plus shipping.

CDs will ship by the last week of September, but we've been averaging three to five weeks early in terms of shipping ahead of the official ship date.