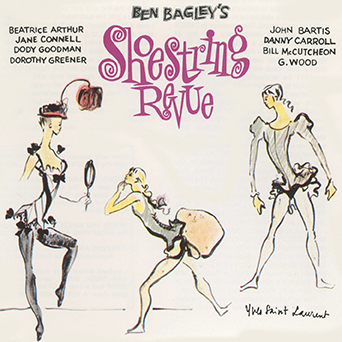 Kritzerland is proud to present the next release in our ongoing series of Ben Bagley reissues:
SHOESTRING REVUE
Music by David Baker, Arthur Siegel, Charles Strouse, Ken Welch, Alec Wilder, and others
Lyrics by Lee Adams, June Carroll, Norman Gimbel, Ronny Graham, Sheldon Harnick, Bud McCreery, Mike Stewart, and others
In 1955, Ben Bagley, all of twenty-one years of age, burst on the theatrical scene with his revue Shoestring Revue. It opened at the President Theater on February 28, 1955 and was an instant success. It launched Ben Bagley as a creator of sparkling revues and a discoverer of some very talented performers and writers. The popularity of Shoestring Revue would go on for some years. There was a cast album at the time. Critics raved about the revue, and major critics at that – Walter Kerr said, "Bright, bubbling, and loaded with laughs. It's funny almost before you take your coat off." Brooks Atkinson in The New York Times said, "Bright and breezy. A lot of fun in an impish manner. There is a lot of talent in the Shoestring Revue."
For the original CD issue of this, Bagley was able to recreate pretty much the entire original revue, save for some sketches. The sources were the original album and some live and studio recordings, as well. That is what we present here. The cast includes Bea Arthur, Danny Carroll, Jane Connell, Dody Goodman, and a host of others.
Due to the multiple sources used by Bagley, the sound is all over the map and mastering engineer James Nelson has done his best to make it all of a piece and clean it all up as best as possible. The fun cover art is by none other than Yves St. Laurent.
SHOESTRING REVUE is limited to 500 copies only and priced at $19.98, plus shipping. This is a PRE-ORDER – CDs will ship by the third week of November, but never fear, we've actually been averaging three to five weeks early in terms of shipping ahead of the official ship date.
Also note that your PayPal receipt is the only receipt you get – we don't send out confirmations beyond that.