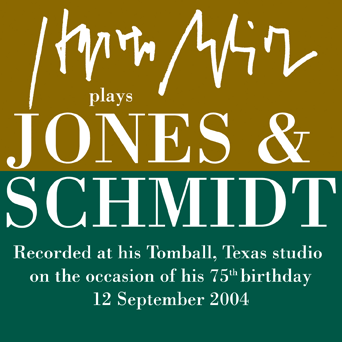 Solo piano recording of Broadway tunes played by the composer.
HARVEY SCHMIDT wrote the music (to lyrics by Tom Jones) for The Fantasticks in 1959 for a summer production at Barnard College. Since its Off-Broadway opening in May 1960, it went on to become the longest running production in the history of the American theatre. Jones and Schmidt's first Broadway show, 110 in the Shade, was nominated for a Tony Award and was revived recently to great acclaim by the New York City Opera. I Do! I Do!, their two-character musical starring Mary Martin and Robert Preston, was a success on Broadway and on tour and was revived in 1996 at the Lamb's Theatre in New York. For several years, Jones and Schmidt worked privately at Portfolio, their theatre workshop, concentrating on small-scale musicals in new and often un-tried forms. The most notable of these efforts were Celebration, which moved to Broadway, and Philemon, which won an Outer Critics Circle Award. In addition to the 1992 Special Tony Award for The Fantasticks, Mr. Jones and Mr. Schmidt are the recipients of the prestigious ASCAP-Richard Rodgers Award for 1993. THIS CD was recorded in Schmidt's home studio in Tomball, Texas on the occasion of his 75th birthday on September 15, 2004. It features the composer lending his distinctive piano stylings to songs from throughout his careers, spanning the big hits like "Try to Remember" and "Soon It's Gonna Rain" to lesser-known and never-before-recorded gems. NOTE: This recording was made "live" and occasionally includes ambient noises as the squeaking of Mr. Schmidt's chair. It's part of the charm of the CD, but we wanted you to know it's there.
• Click on titles below to hear a song sample:

Try To Remember from The Fantasticks
Riviera Nights from Colette
• Little Red Hat from 110 In The Shade
Earthly Paradise from the play, Colette
Never Say No from The Fantasticks
• The World Is Very Wide from Grover's Corners
The Honeymoon Is Over from I Do! I Do!
• Moonlight #2 from The Fantasticks
Guess We May As Well Stay Married Now
from I Do! I Do!
The Room Is Filled With You from Colette
Survive from Celebration
Come To Life from Colette
La Vagabonde from Colette Collage
Soon It's Gonna Rain from The Fantasticks
Here Am I from Roadside
I'm Glad To See You Got What You Want
from Celebration
• They Were You from The Fantasticks
• Thousands Of Flowers from I Do! I Do!
Time Goes By from Grover's Corners
• This House from I Do! I Do!
Growing Older from Colette