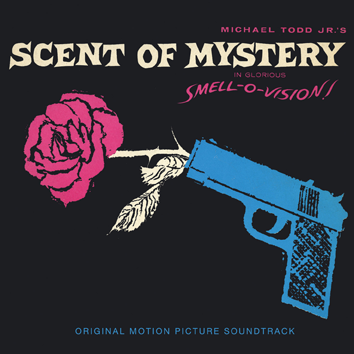 Scent Of Mystery was the first and only motion picture released in Glorious Smell-O-Vision. Michael Todd, Jr.'s grand folly, it totally flopped and only played in three theaters for a very short period of time back in 1960. The film itself was a lark of a murder mystery directed by the legendary cinematographer, Jack Cardiff, starring Denholm Elliott, Peter Lorre, Diana Dors, Paul Lukas, and, in an end-of-film cameo, Miss Elizabeth Taylor.
Shot in the new, improved 70mm Todd Process (basically Todd-AO), the film looked and sounded great, and if that wasn't enough, the audiences (such as they were) were treated to smells like a rose, bread, wine, Scent Of Mystery perfume, tobacco, and a whole slew of other smells (and those with acute senses of smell could, in fact, solve the mystery).
The delightful score is by Mario Nascimbene, the Italian composer responsible for such great scores as Alexander The Great, The Vikings, Sons and Lovers, Room At The Top, Solomon and Sheba and scores of others. The score was heretofore only released on LP, the one and only recording on Ramrod Records. The CD is the LP presentation in wonderful stereophonic sound, and features two songs from the film, sung by Eddie Fisher. The booklet is presented in glorious Smell-O-Vision: With a few simple items from your own home, you, too, can have an olfactory experience while reading the liner notes – just follow the simple cues contained in the booklet.
This release is limited to 1000 copies only.