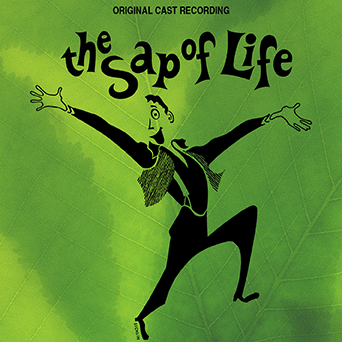 Kritzerland is proud to present world premiere CD release of the original off-Broadway cast recording:
THE SAP OF LIFE
Music by David Shire Book and Lyrics by Richard Maltby, Jr.
Sixty years ago, The Sap of Life, a new musical by a new writing team, Richard Maltby, Jr. and David Shire (aka Maltby and Shire) opened off-Broadway at One Sheridan Square. The reviews were mostly positive but not money reviews, hence the show didn't find an audience and the show only ran a few weeks. But the buzz was out about it – Stephen Sondheim came to see it, then came back and brought Jerome Robbins, Leonard Bernstein, and Harold Prince. On the day the show posted its closing notice, none other than Eleanor Roosevelt devoted an entire column in the New York Post to how sad it was that this wonderful show couldn't have a longer run. The producers managed to scrape up enough money to record a cast album, that was given out to friends and family, but never actually issued. Over the years, the recording found its way to collectors, collectors made tapes for their friends, their friends made copies for their friends, their friends made copies for their friends, and on and on.
A couple of the songs from the show ended up in the Maltby and Shire revues, Starting Here, Starting Now and Closer Than Ever, but every song in the show sounds as fresh and inventive as the day they were written. Maltby and Shire would, of course, go on to write the Broadway musicals Baby and Big.
In the 1970s, a bootleg record appeared, taken from someone's cassette of someone else's cassette of someone else's cassette. That got the score even more fans, despite the quality of it. Back in 1991, the label Bay Cities was thinking about issuing it, but they didn't because the quality just wasn't good enough. A cassette of that attempt was found, along with a good transfer of the bootleg record, and with today's technology and a brilliant restoration expert, Chris Malone, at the helm, it was hoped that the quality would at least be okay. But at the last minute, a reel-to-reel tape was found in David Shire's belongings and that was what was used for this CD. While the original recording quality was certainly nothing to write home about, it sounds about as good as it's ever going to sound.
We're thrilled to finally issue it on CD in its first legitimate release. There are new liner notes by Richard Maltby, Jr. and there are rare photographs and memorabilia in the booklet. And as a special bonus, also included is David Shire's fantastic Sonata for Cocktail Piano, played by Shire when it was written. That, too, is a premiere release.
THE SAP OF LIFE is limited to 500 copies only and priced at $19.98, plus shipping. This is a PRE-ORDER – CDs will ship by the third week of July, but never fear, we've actually been averaging three to five weeks early in terms of shipping ahead of the official ship date.
Also note that your PayPal receipt is the only receipt you get Ė we donít send out confirmations beyond that.