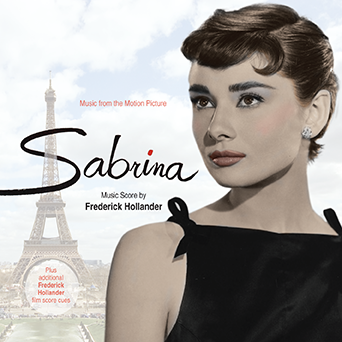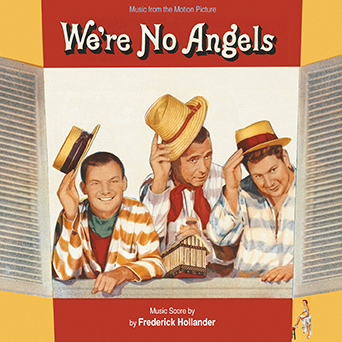 Kritzerland is proud to present a new limited edition release – the world premiere release of

SABRINA

and

WE'RE NO ANGELS

Composed by Frederick Hollander

Frederick Hollander may not be a familiar name to many film music fans, but he was a superb composer who wrote some terrific scores over the years. He was also a wonderful songwriter, dating back to his work in German cabaret and films – his most iconic and well-known song being the gorgeous "Falling in Love Again" from Josef von Sternberg's The Blue Angel.

The 1954 Billy Wilder film Sabrina, was an absolute delight with a brilliant cast. Humphrey Bogart and William Holden played the brothers Larrabee, Linus and David, and the wonderful British character actor John Williams played their chauffeur, Thomas Fairchild, whose daughter is the title character, Sabrina. But it was the magical, winsome and altogether lovable Audrey Hepburn who made the film into pure cinematic magic. She'd become an overnight star the year before with Roman Holiday, and Sabrina was the perfect follow-up, cementing her place as one of the fastest-rising stars in Hollywood.

Wilder wanted to use popular tunes throughout Sabrina, and Hollander was the perfect choice to do those adaptations, as well as provide a few original themes. The resulting score was a memorable and charming pastiche – in fact, it's impossible to think of Sabrina without hearing Hollander's incredible arrangements of such standards as "My Ideal," "I Don't Want to Walk Without You," "Lover," "Dream Girl," "Isn't It Romantic?" and more. No one did this kind of score better than Hollander, and Sabrina is pure unadulterated movie scoring magic.

Two years later, Paramount released a wonderful Christmas comedy called We're No Angels, starring Humphrey Bogart, Peter Ustinov and Aldo Ray as the titular angels. Once again, Hollander provides an incredibly appealing score, which has both original and memorable themes along with interpolations such as "Silent Night."

Frederick Hollander had a really long and fruitful tenure at Paramount, and to fill out this CD, we present surviving cues from several of his film scores for the studio, including The Bride Wore Boots, The Affairs of Susan, The Great McGinty, Remember the Night and Disputed Passage. It is a pleasure to bring an entire album of Hollander music to CD. Though he is perhaps unsung these days, we hope that this potpourri of delightful music will show what an amazing talent he was.

Sabrina/We're No Angels is limited to 1000 copies only and is priced at $19.98, plus shipping.

Our hope is that CDs will ship by the last week of December or hopefully even sooner, but this is the busiest time of year for pressing plants, so there is the off chance that it could be early January. But the hope is to have them out the door before Christmas.
(Click on cover for enlarged version)
• Click on titles below to hear a song sample:

SABRINA
• Prelude
• Isn't It Romantic? (Rodgers–Hart)
I Don't Want to Walk Without You (Styne–Loesser)
Medley (I Wished on the Moon/Isn't It Romantic?/Sabrina) (Rainger–Parker/Rodgers–Hart/Stone)
I'm Yours (Green–Harburg)
• Larrabee Building
Dream Girl (Livingston & Evans)/I Don't Want to Walk Without You (Styne–Loesser)
Lover Waltz (Rodgers–Hart)
Isn't It Romantic? (Rodgers–Hart)
My Ideal (Chase–Robin–Whiting)/Whispers in the Dark (Hollander–Robin)
Bridge to Meeting
Sabrina (vocal) (Stone)
WE'RE NO ANGELS
• Main Title*
• French Guiana
Christmas Eve (inc. "Silent Night")
Three Angels (Hopkins–Sanders, arr. Van Cleave)/Concertina
The Snake Hunt Pt. 1
Finale* (inc. "Plaisir d'Amour")
THE BRIDE WORE BOOTS
• Prelude**
Cupid the Reindeer ("Jingle Bells")
Mary Lou/Great Work, Albert**/End Title
THE AFFAIRS OF SUSAN
Prelude (Hollander)†/Main Title (Simeone)†
The Show Closes
Love in Bloom (Rainger–Robin)
Narrow Escape/Pursuit (Webb)†/Finale†
THE GREAT McGINTY
On a Tropic Night (Lara–Washington)
Louise (Whiting–Robin)/Just One More Chance (Coslow–Johnston)
REMEMBER THE NIGHT
Indiana Patch Work†† (Bradshaw)
Arrival in Indiana Home††
End of a Perfect Day in Indiana (inc. "End of a Perfect Day")†
Indiana Waltz††
Music by Frederick Hollander (except as noted)
* Contains "Sentimental Moments" by Frederick Hollander and Ralph Freed
** Contains "Horses, Horses, Horses" by Richard Whiting and Bryon Gay
† Contains "If You Knew Susie" by Buddy DeSylva and Joseph Meyer
†† Contains "Back Home Again in Indiana" by J.F. Hanley and Ballard MacDonald