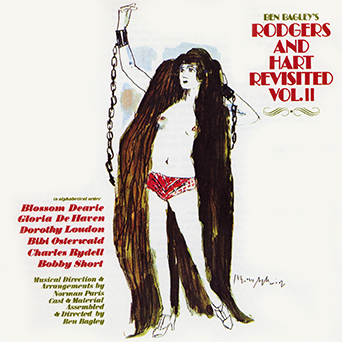 Kritzerland is proud to present three new releases in the Ben Bagley Revisited series:

BEN BAGLEY'S RODGERS AND HART REVISITED VOLUME II

Music by Richard Rodgers
Lyrics by Lorenz Hart

The second volume of Ben Bagley's Rodgers and Hart Revisited was as eclectic and fun as the first and people just ate up all these uncovered gems. For this volume, it's another wonderful group of performers from the Bagley stable, including the great Dorothy Loudon, Blossom Dearie, Gloria De Haven, Bibi Osterwald, Charles Rydell, the amazing Bobby Short, all doing the classy arrangements of Norman Paris.

As we've done with the other albums in this series, we have considerably spruced up the sound. For the CD release, Bagley went into the studio and recorded bonus material to fill out the CD length. And of course you get the great Harvey Schmidt artwork.

BEN BAGLEY'S RODGERS AND HART REVISITED II is limited to 500 copies only and priced at $19.98, plus shipping. CDs will ship by the second week of January, but never fear, we've actually been averaging three to five weeks early in terms of shipping ahead of the official ship date and while we can't guarantee it, we're going to do our best to get them out the door before the end of the year.