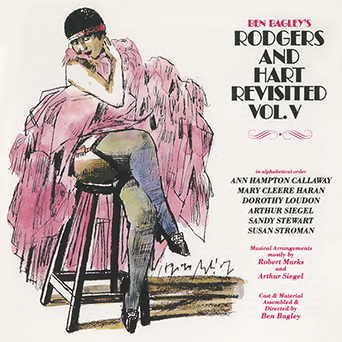 Kritzerland is proud to present the latest release in the Ben Bagley Revisited series:
BEN BAGLEY'S RODGERS & HART REVISITED VOLUME V
Music and Lyrics by Richard Rodgers and Lorenz Hart
Rodgers and Hart Revisited V was the fifth and final volume or the Rodgers and Hart Revisited CD, an amazing set of mostly undiscovered (especially at the time the albums were done) Rodgers and Hart gems. Those five volumes were one of the crown jewels of the Ben Bagley Revisited series. For the fifth volume, Bagley gathered together a fun cast, including Dorothy Loudon, Mary Cleere Haran (who'd go on to record an all Rodgers and Hart album with producer Bruce Kimmel), Ann Hampton Callaway, Arthur Siegel, Susan Stroman, and Sandy Stewart. The arrangements are mostly by Arthur Siegel and Robert Marks.
Rodgers' work with Hart is brilliant and original, jazzy, romantic, and fabulously inventive. In this, the fourth volume, you get rarities and cut songs from Dancing Lady, Mississippi, Evergreen, I Married an Angel, Fifth Avenue Follies, She's My Baby, Follow Thru, Hollywood Party, Meet the Baron, Softer Than a Kittten, America's Sweetheart, Hollywood Revue of 1932, and more. Rediscovering this rare material is a gift from the heavens.
These albums were and still are a tonic for this crazy world. Brilliantly constructed, witty, fun, heartfelt, and even occasionally sentimental, but all in their style, which was like no one else's. We all know the classics, but what fun to discover the rarities.
As we've done for all these releases, we've considerably spruced up the sound for this new release. And the cover art is, of course, by the great Harvey Schmidt.
RODGERS & HART REVISITED VOLUME V is limited to 500 copies only and priced at $19.98, plus shipping. This is a PRE-ORDER – CDs will ship the last week of April, but we always strive to get it out earlier. Lately, however, the pressing plant has been slower than usual due to various shortages of materials.


Also note that your PayPal receipt is the only receipt you get – we don't send out confirmations beyond that.