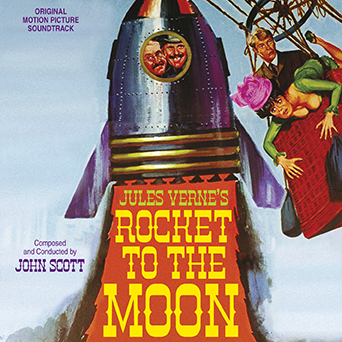 Kritzerland is proud to present a world premiere CD release:

JULES VERNE'S ROCKET TO THE MOON

Composed and Conducted by John Scott

The 1960s brought us a whole slew of period comedy adventure films like The Great Race, Those Magnificent Men in Their Flying Machines, and Those Daring Young Men in Their Jaunty Jalopies – movies with all-star casts, lots of slapstick comedy, and filled with all manner of heroes, villains, and eccentric characters. Two years after Those Magnificent Men in Their Flying Machines had its successful run, Jules Verne's Rocket to the Moon hit movie screens in the UK. This time the all-star cast included Burl Ives, Terry-Thomas, Dennis Price, Troy Donahue, Gert Frobe, Hermione Gingold, and Lionel Jeffries. The film is handsomely photographed in scope and color, and has a lot of top-notch production values. And it's graced with a truly wonderful and tuneful score by John Scott (billed as Patrick John Scott).

By the time of Rocket to the Moon, the word-of-mouth on John Scott's film scoring abilities was spreading, and director Don Sharp hired him to do the score – that began a fruitful director/composer relationship that continued for several years. For Rocket to the Moon, Scott came up with a tuneful, eclectic, and wonderful score – the main theme is so infectiously melodic that it's hard to get it out of your head once you've heard it.

Rocket to the Moon was released on LP in the UK – this is its CD debut. John Scott's music has delighted and touched audiences all over the world, and it's enlivened and enhanced a whole slew of movies, including Antony and Cleopatra, England Made Me, Billy Two Hats, a whole series of Jacques Cousteau specials, North Dallas Forty, The Final Countdown, Where Eagles Fly, Greystoke: The Legend of Tarzan, Harem, The Shooting Party, King Kong Lives, Man on Fire, Black Rainbow, Shoot to Kill, Becoming Collette, The Whistle Blower, and many, many others. No matter what the genre, his scores are filled with wonderful themes, running the gamut from drama to comedy to romance, to adventure, thrills, and suspense, or whatever else the films might have called for.

Jules Verne's Rocket to the Moon is limited to 1000 copies only and is priced at $19.98, plus shipping.

CDs will ship by the second week of May, but we've actually been averaging three to five weeks early in terms of shipping ahead of the official ship date.

ATTENTION INDIEGOGO CONTRIBUTORS: FOR THIS RELEASE – IF YOU WANT TO OPT-OUT OF RECEIVING IT YOU WILL NEED TO SEND US AN E-MAIL OPTING OUT PRIOR TO THE DATE IT SHIPS – SEND TO kritzerland@gmail.com. IF YOU WISH TO RECEIVE IT, YOU DON'T NEED TO DO ANYTHING. IF YOU ARE NOT AN INDIEGOGO CONTRIBUTOR, ORDER AS YOU NORMALLY WOULD. THANK YOU.