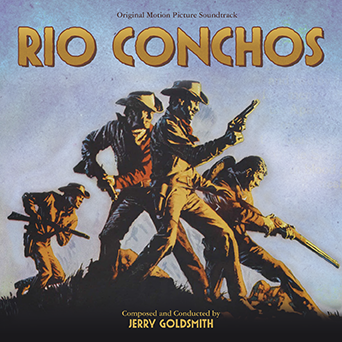 Kritzerland is proud to present a new limited edition soundtrack:

RIO CONCHOS

Music Composed and Conducted by Jerry Goldsmith

In 1964, Twentieth Century-Fox released a widescreen western called Rio Conchos. The film was an "A" production with a strong cast, including Richard Boone, Stuart Whitman, Jim Brown, Tony Franciosa and the great Edmond O'Brien. The film was hard-edged, fast-paced and action-packed, but with strong characters and a story that kept you involved from start to finish.

By the time of Rio Conchos, composer Jerry Goldsmith was well on his way to becoming one of the busiest of the then-new composers scoring films. He'd already done great work for television, scoring several memorable and classic Playhouse 90, Twilight Zone and Thrillerepisodes among many others, including his wonderful theme and occasional score for Dr. Kildare.

His film career had really taken off quickly and in a big way in the early 1960s. Before Rio Conchos Goldsmith had really only scored one western film, his very first feature film score, the 1957 film Black Patch. He'd scored a few western TV episodes from Wagon Train, Gunsmoke, Rawhide and Have Gun – Will Travel and he'd also scored Lonely Are the Brave, which could be considered a modern-day western of sorts.

But with Rio Conchos, Goldsmith immediately showed that he could score westerns with the best of them and it began a long and fruitful association with Twentieth Century-Fox. He would, of course, go on to score many other notable westerns, including Stagecoach, Hour of the Gun, Bandolero!, 100 Rifles, The Ballad of Cable Hogue, Rio Lobo, Wild Rovers and others. But his score for Rio Conchos remains high at the top of that great list – like the film, his score is hard-edged, fast-paced and action-packed, with a memorable main theme that is one of his best.

The original soundtrack was previously released on Film Score Monthly, with the entire score presented in mono with a handful of stereo cues, the only stereo that could, at that time, be saved due to extreme wow and flutter. But thanks to new technologies that have emerged in the last couple of years, Mike Matessino was able to go back to the original elements and perform a miracle of a stereo restoration for the entire score except for three cues – those three cues are presented so seamlessly you might not even be aware they are mono. The sound is amazing and really shows off Goldsmith's superb score in the best possible way.

Rio Conchos is limited to 1200 copies only and priced at $19.98, plus shipping. CDs will ship by the third week of November, but we've been averaging three to five weeks early in terms of shipping ahead of the official ship date.