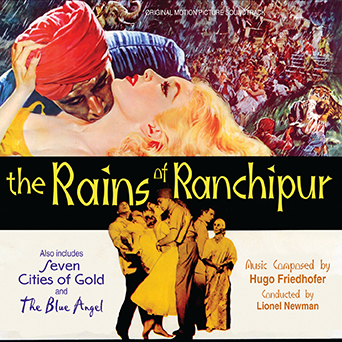 Kritzerland is proud to present a new limited edition soundtrack – three great scores on one 2-CD set at a 1-CD price:

THE RAINS OF RANCHIPUR/SEVEN CITIES OF GOLD/THE BLUE ANGEL

Music Composed by Hugo Friedhofer

Hugo Friedhofer could do anything. From noirs, to romance, to fantasy, to drama, to lighter fare, he simply was one of the greatest film composers in history. His work for Twentieth Century Fox was especially impressive and from the mid-1950s to the end of that decade he would deliver one incredible score after another in just about every genre.

The Rains of Ranchipur came out in 1955 and starred Lana Turner, Richard Burton, Fred MacMurray, and Michael Rennie. The director was Jean Negulesco, who'd directed many films for Fox, including Titanic, How to Marry a Millionaire, Three Coins in the Fountain, Daddy Long Legs, Boy on a Dolphin, to name a few. Beautifully photographed in Cinemascope and color, the film had Oscar-nominated special effects, and a stunningly beautiful Hugo Friedhofer score, filled with glorious themes, some exotic, some heartbreaking, some majestic – a true Friedhofer classic. Ranchipur had only about thirteen minutes of its music previously released, in stereo, due to the deterioration of the original mag tracks – that was really all that could be salvaged. Since that release, other sources showed up, and while those were mono, it is finally possible to present almost the entire score complete – all that's missing is about seven minutes of cues that are thematically covered in other cues.

Also from 1955, Seven Cities of Gold was yet another colorful Fox Cinemascope film, this one a historical adventure film starring Anthony Quinn, Richard Egan and Michael Rennie. The film's tagline basically said it all: "This is the story of the making… and the forging… of California… when men chose gold or God… the sword of the Cross." Once again, Hugo Friedhofer provided a score that perfectly captured the drama, the characters, and the flavor of the film. Spanish rhythms, grand themes, and fantastic orchestral colors are the order of the day. Seven Cities of Gold was previously released on Varese Sarabande and has been out of print for some time. For this release, Mike Matessino has completely remixed the score and found two short unreleased cues – the resulting sound is spectacular in that incredible Fox stereo.

Four years later, Fox remade Josef von Sternberg's classic film, The Blue Angel. Obviously it's not the Dietrich/von Sternberg film – this time The Blue Angel got the Cinemascope and color treatment, with Edward Dmytryk at the helm. It starred Curt Jurgens and May Britt, who both turn in wonderful performances. Since some of the film takes place in a cabaret nightclub, the film has a few musical numbers, and includes the great song, "Falling in Love Again" by Frederick Hollander with English lyrics by Sammy Lerner (used in the original film of The Blue Angel). Friedhofer's actual score is brief (eighteen minutes) and we've included all of it. Naturally, he interpolates "Falling in Love Again," but there's also classic Friedhofer scoring and it's just his usual great work. This is the film score's world premiere release.

The Rains of Ranchipur/Seven Cities of Gold/The Blue Angel is limited to 1000 copies only. The price is $19.98, plus shipping.

CD will ship the third week of November – however, never fear, preorders placed directly through Kritzerland usually ship one to five weeks earlier (we've been averaging four weeks early).