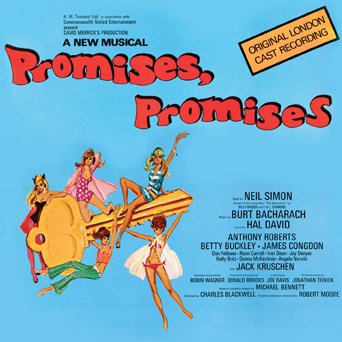 Kritzerland is proud to present our new limited edition CD:
PROMISES, PROMISES
Original London Cast Album
Music by Burt Bacharach Lyrics by Hal David
Yes, after our wham bang success with our two CD Promises, Promises Original Cast Album (which included the original LP mix on CD 1 and our newly remixed version with the pitch-corrected vocals), and the one CD re-pressing of the newly remixed version, we now present what is a Holy Grail for most cast album collectors: the Original London Cast Recording of Promises, Promises, starring Anthony Roberts, Betty Buckley, and Jack Kruschen (reprising the role he created in the film on which Promises is based – The Apartment – for which Kruschen received an Oscar nomination for Best Supporting Actor). The London production opened in 1969 and ran a very healthy 560 performances and was loved by both audiences and critics, just as the Broadway production was.
This is the first release of the Original London Cast Album, which has been mastered from the two-track album masters, which were in pristine condition. It's quite a different listening experience from the Broadway cast album, and equally fun in its own different way. There are some interesting adjustments in the orchestrations occasionally, and naturally the recording balances are completely different than the original cast recording. The cast is superb, with Buckley really socking home her numbers, and Roberts truly charming and lovable. And it's great to have Kruschen in the role he created in the film of The Apartment. We've put the songs back into show order, as they were heard on the Broadway and London stage.
After the joy of being able to present the original cast album's original LP mix on CD for the first time, as well as the newly mixed version with the pitch-corrected vocals, it's an equally great pleasure to be able to finally present the London cast album, sounding better than ever.

This release is limited to 1000 copies only. The price is $19.98 plus shipping.
CD will ship by the first week of September – however, preorders placed directly through Kritzerland usually ship one to five weeks earlier (we've been averaging four weeks early).
And for those who haven't gotten the newly mixed, pitch-corrected Broadway (1968) version, copies have been going fast, so don't wait too long – the critics are calling it a "revelation."


• Click on titles below to hear a song sample:


• Overture Orchestra
• Half As Big As Life Anthony Roberts
Grapes of Roth Orchestra
Upstairs Anthony Roberts
• You'll Think Of Someone
Betty Buckley, Anthony Roberts
Our Little Secret Anthony Roberts, James Congdon
• She Likes Basketball Anthony Roberts
• Knowing When To Leave Betty Buckley
Where Can You Take A Girl? Ronn Carroll, Jay Denyer, Ivor Dean, Don Fellows
Wanting Things James Congdon
Turkey Lurkey Time Donna McKechnie,
Miranda Willis, Susi Pink and Company
A Fact Can Be A Beautiful Thing
Anthony Roberts, Kelly Britt and Company
• Whoever You Are Betty Buckley
Christmas Day
Toni Eden, Eula Parker, Jackie Lee, Barbara Moore
A Young Pretty Girl Like You
Anthony Roberts, Jack Kruschen
I'll Never Fall In Love Again
Betty Buckley, Anthony Roberts
Promises, Promises Anthony Roberts