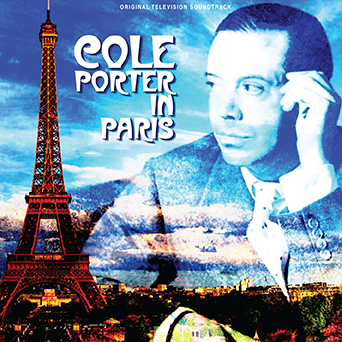 Kritzerland is proud to present a new CD release of two great TV specials:

COLE PORTER IN PARIS
A TV Spectacular
Music and Lyrics by Cole Porter

and

FEATHERTOP
An Original Musical Written for Television
Music by Mary Rodgers Lyrics by Martin Charnin

Cole Porter in Paris was an NBC TV/Bell System Family Theatre musical special that aired on January 17, 1973. The producers assembled an all-star cast including Diahann Carroll, Perry Como, Louis Jourdan, Connie Stevens, with special performances by Charles Aznavour and Twiggy, and the dance trio comprised of choreographer Alan Johnson, Graciela Daniele, and Barbara Alston. The show was shot on soundstages and various locations, including, of course Paris.

The impressive creative team included directors Walter C. Miller and Martin Charnin, with settings by Don Shirley, Jr., costumes by Theoni V. Aldredge, musical direction by Elliot Lawrence, and arrangements by Nick Perito. Of course the draw is a huge number of classic Cole Porter songs, sung by a great cast of folks. Originally released as a promotional LP only, we're happy to give bring this to Great American Songbook and Porter lovers everywhere.

Feathertop, based on the story by Nathaniel Hawthorne, aired on October 19, 1961 as a one-hour special on the ABC Network. The adaptation and teleplay was by John Marsh, and the music by Mary Rodgers, who'd had a big success with Once Upon a Mattress, which had proved her to be a chip off the old Richard Rodgers, her father. The lyrics were by an up-and-comer named Martin Charnin, the same Martin Charnin that would produce Cole Porter in Paris, but more importantly the same Martin Charnin who would do the lyrics for and direct a little show called Annie.

The show had a stellar cast, including the wonderful Jane Powell, TV's Wyatt Earp, Hugh O'Brian, Cathleen Nesbitt, Hans Conried, and in support, Jackie Joseph, Shirley Mills, Pat Lloyd, and Anthony (Scooter) Teague. The New York Times said, "A lovely touch of theatre was brought to television Thursday night… a musical fantasy of beguiling and tuneful gentleness that illumed Channel 7 with a glow of charming make believe for very nearly a full hour." The New York World Telegram raved, "A bright, original musical comedy bursting forth from that tired, blinking little screen."

As with Cole Porter in Paris, Feathertop was released only as a promotional LP.

COLE PORTER IN PARIS/FEATHERTOP is limited to 500 copies only and priced at $19.98, plus shipping. CDs will ship by the first week of May, but never fear, we've actually been averaging three to five weeks early in terms of shipping ahead of the official ship date.

ATTENTION INDIEGOGO CONTRIBUTORS: FOR THIS RELEASE – IF YOU WANT TO OPT-OUT OF RECEIVING IT YOU WILL NEED TO SEND US AN E-MAIL OPTING OUT PRIOR TO THE DATE IT SHIPS – SEND TO kritzerland@gmail.com. IF YOU WISH TO RECEIVE IT, YOU DON'T NEED TO DO ANYTHING. IF YOU ARE NOT AN INDIEGOGO CONTRIBUTOR, ORDER AS YOU NORMALLY WOULD. THANK YOU.
(Click on cover for enlarged version)
• Click on titles below to hear a song sample:


COLE PORTER IN PARIS
1. FILM SONGS MEDLEY
It's All Right With Me Diahann Carroll / I Concentrate on You Perry Como /
Be A Clown Connie Stevens / Well, Did You Evah? Perry Como, Louis Jourdan /
From This Moment On Diahann Carroll / In the Still of the Night Perry Como

2. KISS ME KATE MEDLEY
We Open in Venice-Another Op'nin, Another Show
Diahann Carroll, Connie Stevens, Louis Jourdan, Perry Como / Wunderbar Louis Jourdan /
So In Love Perry Como / Too Darn Hot Diahann Carroll / Always True to You in My Fashion
Connie Stevens / Where is the Life That Late I Led? Louis Jourdan / Were Thine That Special Face Perry Como / Brush Up Your Shakespeare-So in Love (reprise) Diahann Carroll,
Connie Stevens, Louis Jourdan, Perry Como

3. CAN-CAN MEDLEY
Give Him the Ooh-La-La Diahann Carroll, Connie Stevens / C'est Magnifique Louis Jourdan
Can-Can Diahann Carroll, Connie Stevens / I Love Paris Perry Como

• 4. Anything Goes Diahann Carroll
5. Easy to Love Charles Aznavour
6. My Heart Belongs to Daddy Connie Stevens
• 7. Do I Love You? Louis Jourdan
• 8. It's De-Lovely Twiggy
• 9. Ridin' High Orchestra
10. You're the Top
Louis Jourdan, Diahann Carroll, Connie Stevens
11. Begin the Beguine Perry Como

Music and Lyrics by Cole Porter
Musical Direction: Elliott Lawrence
Arrangements: Nick Perito

FEATHERTOP

12. Opening Billboard Orchestra
13. The Day I Say I Do Jane Powell
14. Incantation Ballet Orchestra
15. Gentlemen of Breeding
Cathleen Nesbitt, Hugh O'Brian
16. I'm a Man Hugh O'Brian
• 17. Family Tree Hugh O'Brian and Chorus
• 18. Easy Come, Easy Go Jane Powell
19. Intimate Friends Hans Conried, Hugh O'Brian
20. Perfect Strangers Jane Powell, Hugh O'Brian

Music by Mary Rodgers
Lyrics by Martin Charnin