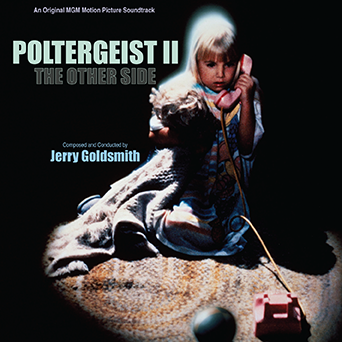 Kritzerland is proud to present a 2-CD set
for a one CD-price – the first complete release of:

POLTERGEIST II: THE OTHER SIDE

Music Composed and Conducted by Jerry Goldsmith

"THEY'RE BACK…"

In 1982, Steven Spielberg gave the movie world a one-two punch – Poltergeist, which he co-wrote and produced, and a little movie called E.T. Poltergeist delighted audiences and critics – it was the best kind of horror film: a carnival fun ride, a rollercoaster that could have you laughing out loud one minute and screaming in terror the next, all with a shiver-inducing Twilight Zone kind of creepiness.

Since sequels were becoming the norm and were big business,
it was not much of a surprise when Poltergeist II: The Other Side went before the cameras – the only surprise was that it took four years to do so. Back were the lovable and endearing Freling family and the actors who played them (Craig T. Nelson, Jobeth Williams, Oliver Robins and Heather O'Rourke), and Zelda Rubinstein as the psychic. In the director's chair this time was Brian Gibson, and the writers were Michael Grais and Mark Victor who, with Spielberg, had written the original Poltergeist.

While the film wasn't the success of its predecessor, it did make money and was nominated for an Academy Award for Best Visual Effects. The reviews were middling at the time because there was disappointment (as there usually is with sequels of any kind) that it didn't live up to the first film. But viewed years later without that baggage, the film does have its pleasures, with wonderful performances by the leads, and a truly one-off and incredibly creepy performance by Julian Beck, the kind of performance that induces nightmares. But what takes the film to a whole other level is the same thing that took Poltergeist to a whole other level – the magnificent score by Jerry Goldsmith.

Goldsmith's score for Poltergeist had been nominated for an Academy Award (losing to the other Spielberg film, E.T.). But rather than just rehash that score, he chose to just use the "Carol Anne" theme and a few other bits and pieces from the first film, and a lot of new material. Goldsmith uses his usual orchestral forces with some electronics and choir mixed in to good effect. The "Carol Anne" theme occurs every now and then and is, of course, one of the most memorable and beautiful themes he ever wrote. The music for Poltergeist II is ethereal, majestic, suspenseful, heart pounding, and tender. It is also its own distinct thing – it's not Poltergeist because the film is not just a rehash of the first film.

For this first time ever complete release of Poltergeist II: The Other Side, we have gone back to the original three-track mixdowns as prepared by Jerry Goldsmith. All cues are present and accounted for. Furthermore, we have some bonus tracks – two cues that were on the previous CDs with choir, as they were recorded, were played in the film without the choir and we've included those film versions. Also, the cue "Late Call" had a toy phone sound effect on the first release, that wasn't included on the second, but was on the third – we include it in our bonus section, just for completeness sake, and there are several other nice bonus tracks, including an alternate version of one of the new cues making its first appearance on this CD.

It is a pleasure to release this wonderful Goldsmith score from one of his most fertile periods, complete and in beautiful sound. There was no one like Jerry Goldsmith – he was a film music force like no other. He could do anything – romance, comedy, drama, horror, sci-fi, thriller, mystery – his music has made great films greater and mediocre films tolerable. He understood film music and its purpose as well as any film composer who ever lived.

POLTERGEIST II: THE OTHER SIDE is limited to 1500 copies only and the 2-CD set is priced at $19.98, plus shipping.

CD will ship the second week of October, but preorders placed at Kritzerland usually ship one to five weeks early (we've been averaging four weeks).