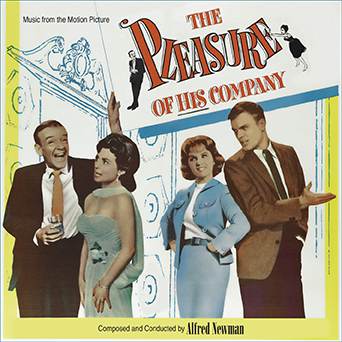 Kritzerland is proud to present a world premiere limited edition CD release:

THE PLEASURE OF HIS COMPANY

Music Composed and Conducted by Alfred Newman

Take an all-star cast (including Fred Astaire, Debbie Reynolds, Lili Palmer, Tab Hunter, Gary Merrill and Charlie Ruggles), a hit Broadway show (The Pleasure of His Companyby Samuel Taylor and Cornelia Otis Skinner), a world-class director (George Seaton), and what could possibly go wrong? The answer is, in a word – nothing. The plot is a bubbly confection about a ne'er-do-well rich man named "Pogo" Poole (Astaire), who returns from his many travels to attend the wedding of his daughter Jessica (Reynolds), a debutante who hasn't seen her father since he and her mother (Palmer) divorced. As in all bubbly confections, there are complications, misunderstandings, charm, laughs and the eventual happy ending. The Pleasure of His Company has all these in spades with an emphasis on the "pleasure."

Hired to compose the score was the great Alfred Newman, who'd recently ended his long tenure at Twentieth Century-Fox. Newman had scored several of director George Seaton's early films, including Chicken Every Sunday, The Big Lift, For Heaven's Sake and Anything Can Happen, and just as Seaton had migrated from Fox to Paramount, so, too, did Newman. There he scored both The Pleasure of His Company and Seaton's next Paramount film, The Counterfeit Traitor.

It's hard to imagine a more luscious, melodic, beguiling and captivating romantic comedy score than what Newman delivered for The Pleasure of His Company. The score gets off to a stunning start with a great Newman theme, "Lullaby in Blue" – a theme that is the cornerstone of the score and will reappear at frequent intervals. The main secondary theme occurs soon thereafter, Newman's Pleasure of His Company theme. There's a wonderful theme for Astaire, a kind of "traveling music" that is infectious and fun. And there are other lovely themes along the way to the happy ending. The score is like a sparkling glass of champagne – sophisticated, lush, witty, tender and pure Newman.

This is the first CD release for The Pleasure of His Company and we present the complete score, the source music, and some demo cues, mostly in stereo from the original session masters housed in the Paramount vaults. A world premiere score release by Alfred Newman is always cause for celebration – so, pop open the champagne and be prepared to be charmed by one of the greatest film composers who ever lived.

The Pleasure of His Company is limited to 1000 copies only and is priced at $19.98, plus shipping.

CD will ship the last week of October, but preorders placed at Kritzerland usually ship one to five weeks early (we've been averaging four weeks).



(Click on cover for enlarged version)
• Click on titles below to hear a song sample:


• Prelude/Lullaby in Blue
Pogo Poole
I Am the Essential Guest*
Portraits From the Past
• Hello Katherine
A Tender Reunion
Toy's Radio (Hawaiian War Chant)
• So Little Time
Country Club Samba
Fisherman's Wharf – San Francisco/The Picnic/The Cable Car
Chez Allain
• Time, the Enemy*
For Old Time's Sake*
• Just Testing (Kitchen Scene)
I'm Alone – Parts 1 and 2*/Pogo's Farewell*
Bonus Tracks
Lullaby in Blue (Demo)
• The Pleasure of His Company* (Demo 1)
The Pleasure of His Company* (Demo 2)
Wedding Reception*
Country Club Dance #1 ("Personality")
Country Club Dance #2 ("Easy Living" and "Lover")
Terrace in the Fog ("That Old Black Magic")
Reception Waltz Medley ("The Champagne Waltz" and "Lover")
That Old Black Magic (Pre-Recording)
That Old Black Magic à la Previn (Pre-Recording)
Personality (Pre-Recording)
Easy Living and Lover Medley (Pre-Recording)
The Champagne Waltz and Lover Medley (Pre-Recording)
*contains "The Pleasure of His Company" by Alfred Newman and Sammy Cahn

SPECIAL OFFER
LIMITED TIME ONLY WHILE SUPPLIES LAST
CLICK HERE FOR SPECIAL VALUE