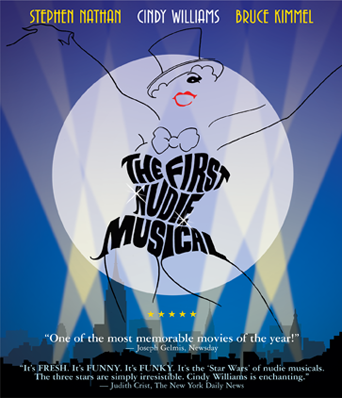 Kritzerland is proud to present its first Blu-Ray release – the 35th Anniversary Edition of
THE FIRST NUDIE MUSICAL
The "bright, bawdy, gleefully naughty" (Kathleen Carroll, New York Daily News) The First Nudie Musical comes to Blu-ray in a brand new restored transfer in honor of its 35th anniversary. In this outrageously hilarious spoof that has become a cult classic, a desperate young filmmaker tries to rescue his studio by making a porno musical. You've never seen anything quite like this as the elaborate style of a 30s musical is mixed with contemporary tackiness, producing riotously risqué showstoppers.
"CHOCKFUL OF YOUTHFUL TALENT, SPICED BY OUTRAGEOUSNESS AND SPARKED BY INVENTION. THE THREE STARS ARE SIMPLY IRRESISTIBLE. CINDY WILLIAMS IS ENCHANTING. KIMMEL IS THE ULTIMATE APPEALING SCHNOOK. FRESH AND FUNNY AND FUNKY. MADE FOR ABOUT 1 PERCENT OF THE BUDGET FOR 'NEW YORK, NEW YORK,' AND A HUNDRED TIMES FUNNIER AND MORE PERCEPTIVE. IT'S THE 'STAR WARS' OF NUDIE MUSICALS!"
— Judith Crist, New York Post
Filled with toe-tapping musical numbers, such as "Lesbian, Butch, Dyke," "Orgasm," and the classic "Dancing Dildos," and more nudity than you can shake a stick at, The First Nudie Musical has it all – a hotshot producer (Stephen Nathan), his wisecracking secretary (Cindy Williams), a bumbling director (Bruce Kimmel), scheming investors, a prima donna leading lady (Alexandra Morgan), a Cuban spitfire (Diana Canova), and a group of aspiring actors struggling to make a movie musical against all odds.
"ONE OF THE MOST MEMORABLE MOVIES OF THE YEAR!"
— Joseph Gelmis, Newsday
Originally released by Paramount Pictures in 1976, the film garnered excellent reviews but in a bit of unfortunate timing, Cindy Williams' series, Laverne and Shirley (also produced by Paramount) went on the air and became a family-hour smash. After a year, the film was purchased by another distributor in New York and, in 1977, The First Nudie Musical re-opened and was reborn, again garnering mostly rave reviews, playing exclusively in one theater for over three months, and, in its first week of wide release, becoming the fourth highest grossing film in the United States (right under Star Wars and The Spy Who Loved Me). The film became one of the first cable hits, playing on various pay cable stations all throughout the 1980s, and during that time the video was released and also became a best-seller, making the Billboard chart.
"A BAWDY BONANZA OF LAUGHS… A TUNEFUL, COMIC SLEEPER!" — After Dark Magazine
"SIDE SPLITTING. CINDY WILLIAMS IS PERFECT." — WABC TV
The First Nudie Musical was released on DVD in 2002. That release was cobbled together from the then-best elements available – three 35mm prints that had retained about 60% of their color. That transfer was the best it could be given the technology back then, but there were the inevitable splices and scratches, and color that was okay but not great. Between then and now, the low-budget film's CRI (internegative) was found (the camera negative is lost). Fortunately, it was in excellent condition and only one generation away from the camera negative. It yielded a wonderful image and the color is now wholly accurate to the way the film was originally shot.
The 35th anniversary edition of The First Nudie Musical is loaded with extras – a retrospective documentary co-directed by Academy Award-nominee Nick Redman, three commentary tracks – two for the film (one with Cindy Williams, Stephen Nathan, and Bruce Kimmel, and one with Nick Redman and Bruce Kimmel), and one for the documentary (Nick Redman, Michael Rosendale, and Bruce Kimmel). Additionally, there's a deleted scene, two deleted musical numbers (one with sound and picture, one with audio only), two theatrical trailers, a radio spot, costume tests, and a stills gallery.
The First Nudie Musical stars Stephen Nathan, Cindy Williams, Bruce Kimmel, Diana Canova, Alexandra Morgan, Leslie Ackerman, and Alan Abelew. Screenplay, Music, and Lyrics by Bruce Kimmel. Directed by Mark Haggard and Bruce Kimmel.
The price is $29.98, plus shipping. The street date is November 5 but preorders placed directly through Kritzerland usually ship a few weeks early.
THE FIRST ONE HUNDRED COPIES ORDERED AT KRITZERLAND WILL BE SIGNED BY CINDY WILLIAMS AND BRUCE KIMMEL.