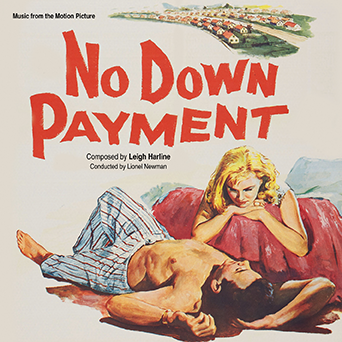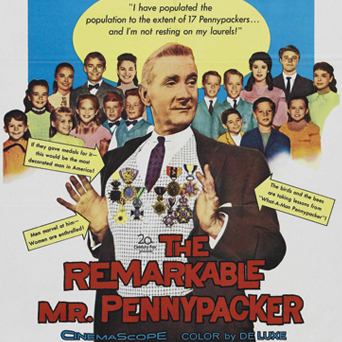 Kritzerland is proud to present a new world premiere limited edition release – two great scores on one CD:

NO DOWN PAYMENT and THE REMARKABLE MR. PENNYPACKER

Music Composed and Conducted by Leigh Harline

The Twentieth Century Fox film No Down Payment takes a look at life in California suburbia circa 1957, both its surface and its underbelly. No Down Payment was Martin Ritt's second movie directorial effort – he assembled a great cast, including Joanne Woodward, Sheree North, Tony Randall (in an atypical unsympathetic role), Jeffrey Hunter, Cameron Mitchell, Barbara Rush and Pat Hingle. The screenplay was credited to Philip Yordan, even though it was actually written by then-blacklisted writer Ben Maddow. The movie is a beautifully acted slice of post World War II drama, well directed by Ritt and wonderfully scored by composer Leigh Harline.

Beginning with a bustling main title filled with the promise of suburban living, it introduces us to the world of Sunrise Hills. But soon Harline begins introducing undercurrents into his score, undercurrents that will soon turn from idyllic to dramatic. It's a superb score from a master composer who really understood the film medium.

Two years later, Fox released The Remarkable Mr. Pennypacker. Directed by Fox regular Henry Levin and shot in Cinemascope by Milton Krasner, the film starred Clifton Webb, Dorothy McGuire, Charles Coburn, Jill St. John, Ron Ely, David Nelson, Larry Gates and Richard Deacon. Once again, Leigh Harline was the composer. For Pennypacker, Harline created a delightful and tuneful score, never pandering to the comedy and helping to give the film a dramatic underpinning. It's a charming score and a Harline highlight from a career filled with wonderful scores, including
Pickup on South Street, Broken Lance, Black Widow, House of Bamboo, The Girl in the Red Velvet Swing, Good Morning, Miss Dove, The Bottom of the Bottle, 23 Paces to Baker Street, The Wayward Bus and many others.

This is the world premiere release of these two Harline scores. They have been restored from the original elements in the Fox vault and both are in that great Fox stereo. While every effort has been made to make this release as good as possible, there are a handful of cues with minor damage, but nothing that would warrant leaving them off the CD.

No Down Payment/The Remarkable Mr. Pennypacker is limited to 1000 copies only and is priced at $19.98, plus shipping.

CDs will ship by the last week of June, but we've been averaging three to five weeks early in terms of shipping ahead of the official ship date.