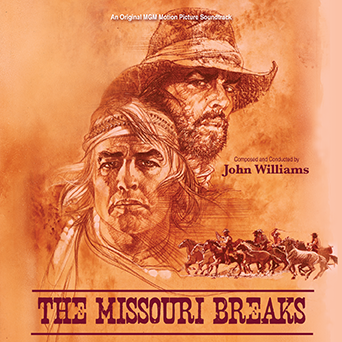 Kritzerland is very proud to present a 2-CD set – the world premiere release of the original film tracks, along with a brand new mastering of the original LP re-recording of:

THE MISSOURI BREAKS

Music Composed and Conducted by John Williams

Well, it seemed like a good idea: Pair two superstars coming off hugely successful films – Marlon Brando, whose last two films had been The Godfather and Last Tango in Paris, and Jack Nicholson, coming off Chinatown and One Flew Over the Cuckoo's Nest – add in screenwriter Thomas McGuane, a well-respected novelist turned screenwriter, with Rancho Deluxe and 92 in the Shade (based on his novel) to his credit, and top it off with the great director Arthur Penn, who'd made the brilliant The Miracle Worker, Bonnie and Clyde and Little Big Man. Then hire some of the best character actors working then – Harry Dean Stanton, John McLiam, Randy Quaid, Frederic Forrest, and a fetching, strong-minded leading lady, Kathleen Lloyd and how could it fail?

But fail it did, with both critics and audiences. But thanks to TV and home video, people have come to embrace the pleasures of the film. It looks great, thanks to the beautiful photography of Michael Butler, but even more importantly it has a musical score that just brings the whole thing alive, thanks to the great John Williams.

Williams had already done big, brash, outdoorsy Americana before with The Reivers and The Cowboys. But The Missouri Breaks wasn't big and brash, and so required a different kind of score – smaller in scale, but one that would capture the characters and the drama as well as the period and the feel of the film. And, of course, Williams delivered a perfect score (albeit atypical for him during this period), mostly composed for guitars, harmonica, percussion, and a handful of other instruments. Williams never wants for coming up with an instantly memorable and beautiful theme and The Missouri Breaks has a beauty in its love theme – never overused, always right. His main title music sets the mood with tense bass notes, and off-kilter harmonica and guitar – it's wonderfully evocative and haunting. There are up-tempo infectious cues and cues for Brando that are really off-kilter. It's Williams doing what he did (and still does) better than anyone, and it's a score that's completely unique to him.

There was an LP release at the time of the film – that was a re-recording, and Williams, as he did frequently, arranged the music differently than the film, to work as a cohesive thirty-six minute album. That LP release was issued on CD, first by Ryko, who added three bonus tracks from the original film cues – the first time those had been heard outside the film (although, interestingly, those three cues contained no music that wasn't in the re-recording) – and then by Varese Sarabande, which was a virtual clone of the Ryko CD.

For this CD release, we are really pleased to present all of the original film tracks for the very first time – their world premiere release – from the original superb-sounding session masters. It's leaner and meaner than the re-recording, and a completely different listening experience. A handful of cues went unused in the film itself, but we've included everything for this release. We also are including the original LP presentation but we've gone back to the original album masters so we could be at the original source for the best possible sound. So, here, at long last, is the complete original soundtrack cues for The Missouri Breaks. They've been a long time coming, but we hope you'll find they've been worth the wait.

THE MISSOURI BREAKS is limited to 1200 copies only. The 2-CD set is priced at $19.98, plus shipping.

CD will ship the second week of August, but preorders placed at Kritzerland usually ship one to five weeks early (we've been averaging four weeks).