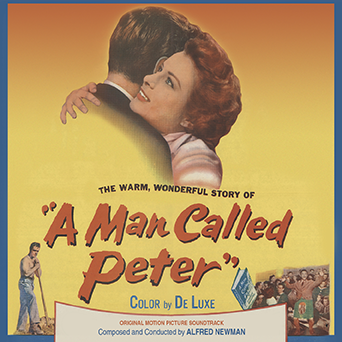 Kritzerland is proud to present one of our final CD releases for 2018 – from the Golden Age:

A MAN CALLED PETER

Composed and Conducted by Alfred Newman

A Man Called Peter is the story of preacher Peter Marshall, who was the Chaplain of the United States senate as well as being pastor of the New York Avenue Presbyterian Church in Washington, DC. Based on the biography by his widow, Catherine Marshall, Henry Koster directed an excellent cast, including the fine British actor Richard Todd (Stage Fright, The Dam Busters, and The Hasty Heart, for which he received an Academy Award nomination as Best Actor), Jean Peters (Captain from Castile, Viva Zapata, Pickup on South Street, Broken Lance) as Catherine Wood Marshall, and also in the cast were Jill Esmond, Les Tremayne, and young Billy Chapin. And to write score, the head of the Fox music department, Alfred Newman, who'd worked with Koster on the religious epic, The Robe.

Alfred Newman's score is a beauty. No other composer did this kind of film as well as Newman and he did many films with religious themes. It is emotional and passionate and filled with memorable music. You can always tell a Newman score within the first twenty seconds of hearing it – the extraordinary writing for strings, the harmonies and colors – he was simply unique and one of the greatest of all film composers, and his long and amazing career at Fox is really unparalleled. Add to that the brilliant work of his co-conspirators, orchestrator Edward B. Powell and vocal supervisor, the great Ken Darby, and you have film music magic.

The soundtrack for A Man Called Peter was previously released on CD by Film Score Monthly. The presentation there included all the source music presented within the score itself, as it appeared in the film. For this release, Mike Matessino decided to present Newman's score by itself, and hearing it that way is extremely powerful and a great listening experience. All of the source music is included here, after the Newman program. The sound has been considerably cleaned up – a bit of wow and flutter still remains, but it's minor now and the Newman score sounds fantastic in that classic Fox stereo.

A MAN CALLED PETER is limited to 1000 copies only and priced at $19.98, plus shipping. CDs will ship by the third week of January, but never fear, we've actually been averaging three to five weeks early in terms of shipping ahead of the official ship date and we're going to try our hardest to get them out by the end of the year.
(Click on cover for enlarged version)
• Click on titles below to hear a song sample:


• Main Title
The Revelation
The Immigrant
Alma Mater
Catherine
• Good Night, Peter Darling
One Week Later
The Proposal / The Cedars Waltz /
The Way of Love
The Marriage / The Honeymoon
Washington D.C.
• The Lincoln Memorial
The Church Of The Presidents
Hospital Scene - Lullaby
Tuberculosis
Illness
• Soliloquy
• Faith And Recovery
Cape Cod
Prayers For Peter
Our New Chaplain
Peter's Death
• Finale
Composed and Conducted by Alfred Newman
Source Music
Symphony No. 1 (Brahms)
Loyalty And Courage (St. Catherine) /
The Holy Trinity (Nicaea)
Jesus Christ The Lord (Diademata)
God The Father (Haydn)
A Mighty Fortress Is Our God (Eine fest burg)
O Rest In The Lord (from Elijah, F. Mendelssohn)
If With All Your Hearts
(from Elijah, F. Mendelssohn)
The Doxology (Old 100th) /
A Mighty Fortress Is Our God
Annapolis Chapel - Eternal Father, Strong To Save (Melita)
Old Time Religion (Traditional)
Mairzy Doats
Don't Sit Under The Apple Tree
Comin' Thro' The Rye
Annie Laurie
The Bonnie Banks O' Loch Lomond