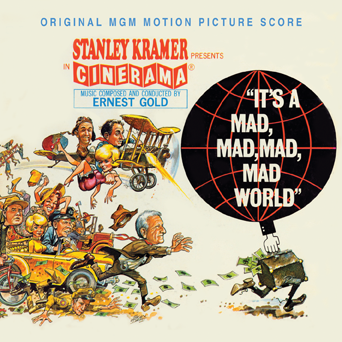 "IN FRANCE THE GIRLS WEAR SCANTIES
BUT ON LAMB CHOPS THEY PUT PANTIES
I'M TELLING YOU IT'S A MAD, MAD, MAD, MAD WORLD!"
Kritzerland is proud to present a limited edition CD soundtrack to one of the most beloved films ever made:
IT'S A MAD, MAD, MAD, MAD WORLD
Music Composed and Conducted by Ernest Gold
It's A Mad, Mad, Mad, Mad World was Stanley Kramer's self-professed "comedy to end all comedy," a huge, big-budget comic extravaganza for which he assembled a cast to end all casts, starting with the leads – Sid Caesar, Milton Berle, Jonathan Winters, Ethel Merman, Mickey Rooney, Buddy Hackett, Edie Adams, Dick Shawn, Dorothy Provine, Phil Silvers, and Terry-Thomas – and then the incredible roster of supporting players and guest stars, just about everyone who was anyone in the world of comedy, names like Buster Keaton, Jack Benny, Don Knotts, Jimmy Durante, The Three Stooges, William Demarest, Jerry Lewis, Jim Backus, Andy Devine, Joe E. Brown, Eddie "Rochester" Anderson, Paul Ford, Stan Freberg, Peter Falk, Selma Diamond, Sterling Holloway, Marvin Kaplan, Arnold Stang, Carl Reiner, Jesse White and on and on, and, as the glue that holds the whole thing together, the great Spencer Tracy as Captain Culpepper. The film was shown in Ultra Panavision 70 (and advertised as being in Cinerama), gorgeous color, and six-track stereophonic sound. It had its premiere on November 7, 1963 at the newly built Cinerama Dome Theater in Hollywood, where it then played a reserved seat road show engagement for a record-breaking sixty-seven weeks.
For the score, Kramer turned to Ernest Gold, who'd already done several films for Kramer, including The Defiant Ones, On The Beach, Inherit The Wind, and Pressure Point (which Kramer produced). Gold turned out to be the perfect choice – one simply cannot imagine the film without Gold's music. For the main theme, he came up with a maddeningly and brilliantly tuneful theme, which is used throughout the score in a whole variety of guises, even sung, with mad lyrics by Mack David. It's a glorious merry-go-round of a score, infectious and delightful. As Stanley Kramer said, "Since the advent of sound, music has been an essential adjunct to a motion picture. But in the score for It's A Mad, Mad, Mad, Mad World, Ernest Gold has accomplished what has long been sought; he has succeeded in making the score one of the stars of the film."
The original United Artists LP of Ernest Gold's score was a re-recording, as was occasionally the fashion in those days. The original CD issue of the score (long out of print) included dialogue snippets after almost every track, which unfortunately impeded the wonderful flow of the music. We've eliminated all the dialogue and gone back to the original LP presentation, transferred and completely remastered from the original album masters created in 1963. As bonus tracks, we're thrilled to include the original film versions of the overture, main titles (both with the sound effects, which were designed to go hand in glove with Gold's score and Saul Bass's fantastic title design, and without), intermission, entr'acte, finale, and exit music.
This release is limited to 1000 copies only. The price is $19.98 plus shipping.
CD will ship by the second week of February – however, preorders placed directly through Kritzerland usually ship one to five weeks earlier (we've been averaging four weeks early).