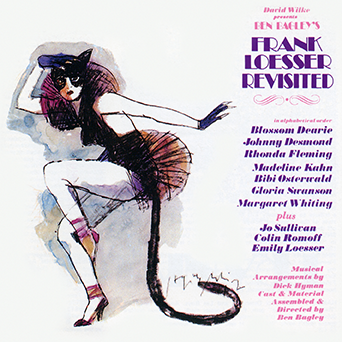 Kritzerland is proud to present three new releases in the Ben Bagley Revisited series:

BEN BAGLEY'S FRANK LOESSER REVISITED

Music and Lyrics by Frank Loesser
Additional music by Burton Lane, Arthur Schwartz, Victor Schertzinger, Matty Melnick

Ben Bagley's Frank Loesser Revisited is another delightful entry in the Revisited series. Back when these Revisited LPs came out they were like an oasis in the desert. Even when they were issued on CD, these were still frequently the only recordings of certain songs.

Frank Loesser was one of the great treasures of The Great American Songbook – so many of his songs become timeless classics, both the songs for which he wrote music and lyrics and the songs for which he only wrote lyrics with other composers. He also wrote a few of the greatest musicals ever written, including Guys and Dolls, The Most Happy Fella, and How to Succeed in Business Without Really Trying. He regularly wrote for the movies and those songs produced a huge number of hits for many of the biggest stars. And they continue to be recorded and his show continue to be revived. Even his less successful musicals are chockful of great songs.

As with all of Bagley's Revisited series, you'll get a few classics but mostly you'll get some Loesser-known songs, all of them quite delightful and uniquely Loesser. The performers are great and include Jo Sullivan Loesser and daughter Emily Loesser, plus Blossom Dearie, Johnny Desmond, Rhonda Fleming, Madeline Kahn, Bibi Osterwald, Gloria Swanson, and Margaret Whiting, with arrangements by the brilliant Dick Hyman. The performers are all top-notch and this is one of the best of the Bagleys.

As we've done with the other albums in this series, we have considerably spruced up the sound. For the CD release, Bagley went into the studio and recorded bonus material to fill out the CD length. And as with all the Bagley albums, you get the wonderful Harvey Schmidt artwork.

BEN BAGLEY'S FRANK LOESSER REVISITED is limited to 500 copies only and priced at $19.98, plus shipping. CDs will ship by the second week of January, but never fear, we've actually been averaging three to five weeks early in terms of shipping ahead of the official ship date and while we can't guarantee it, we're going to do our best to get them out the door before the end of the year.
(Click on cover for enlarged version)

• Click on titles below to hear a song sample:

1. Kiss the Boys Goodbye
2. Three Cornered Tune
3. I Wish I Didn't Love You So
4. Dancing on a Dime
5. Rumble, Rumble, Rumble
6. Snug as a Bug in a Rug
7. Where Are You Now That I Need You?
8. Hamlet
9. Poppa Don't Preach to Me
10. Why Fight the Feeling?
11. They're Either too Young Or to Old
12. Let's Get Lost
13. "Murder", He Says
14. Mary, Mary, Quite Contrary
15. Spring Will Be a Little Late This Year
16. Pleasures and Palaces
Bonus Songs
17. You Understand Me
18. Wind at My Window
19. Travelin' Light
20. Delicatessen Of My Dreams
21. Bless the Day
22. Hans Christian Andersen Medley
Music and Lyrics by Frank Loesser
Additional Music by Burton Lane, Arthur Schwartz, Victor Schertzinger, Matty Melnick