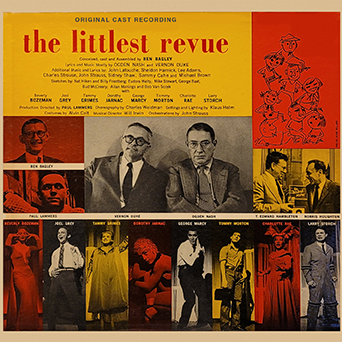 Kritzerland is proud to present the next release in our ongoing series of Ben Bagley reissues:

THE LITTLEST REVUE

Music and Lyrics mostly by Ogden Nash and Vernon Duke

Sketches and additional music and lyrics by John Latouche, Sheldon Harnick, Charles Strouse, Sammy Cahn, Nat Hiken and Billy Friedberg, George Baxt, Allan Manings and Bob Van Scoyk, Eudora Welty, Mike Stewart, Michael Brown, and Bud McCreery.

You've got to hand it to Ben Bagley – he had chutzpah to spare, moxey to spare and, at twenty-two years of age was already a name known to lovers of the revue format thanks to his Shoestring Revue series. But this was his step into the big leagues, and he rounded up a fantastic group of writers to create it, top-notch behind-the-scenes creatives, and a pretty brilliant cast, several of whom would go onto hugely successful careers, including Joel Grey, Tammy Grimes, Charlotte Rae, Larry Storch (not on the album), and George Marcy who went from this revue into West Side Story, creating the role of Bernardo. And, of course, several of the writers would also go on to have huge careers, including Charles Strouse and Lee Adams, Sheldon Harnick, and Nat Hiken had already scored big with The Phil Silvers Show (aka Sergeant Bilko). Brooks Atkinson, in The New York Times said, "A bright, gay gambol … The Littlest Revue has a uniformly high standard of intelligence and humor … The sketches are hilarious … Very enjoyable evening at the hands of enjoyable people on the stage." Richard Watts in the Post said, "Fresh and original … The new show's good looks, its happily agreeable performances and the general air of unassuming brightness deserve everyone's attention and approval." John Chapman in the Daily News said, "Charming, funny, and witty. The Littlest Revue is a show of the first order." A delightful cast album was released on Epic Records and in many ways is just as fresh and fun today as it was back when it came out. So, travel back to when the intimate revue was a staple of the theater scene in New York – bright, witty, and wonderfully tuneful and memorable songs.

For this CD release, we have, as always, considerably cleaned up the sound, and hopefully corrected the many and varied typos found in the booklet of the original CD release. And for the first time since the original LP release, we've used the original album cover. We also give you the reissue LP and CD cover by the great and much-missed Harvey Schmidt.

THE LITTLEST REVUE is limited to 500 copies only and priced at $19.98, plus shipping. This is a PRE-ORDER – CDs will ship by the last week of December, but never fear, we've actually been averaging three to five weeks early in terms of shipping ahead of the official ship date.

Also note that your PayPal receipt is the only receipt you get – we don't send out confirmations beyond that.