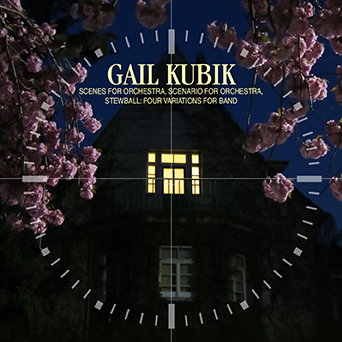 Kritzerland is proud to present a new release – a classical/film music-related album:

GAIL KUBIK
SCENES FOR ORCHESTRA, SCENARIO FOR ORCHESTRA, STEWBALL: FOUR VARIATIONS FOR BAND

Music by Gail Kubik

Gail Kubik is not a name that many are familiar with these days. And yet, he was a Pulitzer Prize-winning composer of both classical and film music. He composed many scores for the World War II documentaries produced by the government, as well as composing the score for the Oscar-winning UPA cartoon classic, Gerald McBoing-Boing. His classical body of work included symphonies, two violin concertos, and others, including his Symphony Concertante from 1952, which won him the Pulitzer.

In 1955, Kubik was hired by Paramount Studios to score their adaptation of the Joseph Hayes novel and Broadway hit, The Desperate Hours, directed by William Wyler and starring Humphrey Bogart, Frederic March, Arthur Kennedy, and Martha Scott. Everyone thought his score was very effective, but very different from other Paramount scores of that era – jagged, atonal, no themes – and ultimately the head of Paramount thought it was simply to "modern" and kept only a portion it, including its main title, and bringing in composer Daniel Amfitheatrof to compose some replacement music.

In 1962, he got another prime scoring assignment, this time for the MGM film, I Thank a Fool, starring Susan Hayward, Peter Finch, Cyril Cusack, and Diane Cilento, a Cinemascope and color potboiler. Kubik wrote an excellent score for the film, which, in another dispiriting turn of events, was rejected and replaced with a score by Ron Goodwin. But, smartly, Kubik wasn't about to let his scores for either The Desperate Hours or I Thank a Fool go to waste. He fashioned The Desperate Hours into a piece called Scenario for Orchestra, which is basically all the music he wrote for the film, shaped as a concert piece. Then, after the rejection of I Thank a Fool, he did the same thing, this time calling it Scenes for Orchestra.

One can see instantly why his score for The Desperate Hours might have made the head of Paramount a bit nervous – there's no relief in it, no helpful, hopeful notes or tunes, no comfort – exactly as it should be for that film. They were smart enough to leave the nerve-wracking main title, which does get the film off to a great start. Interestingly, his score for I Thank a Fool begins in the same jagged way, but quickly veers away from that into a slightly more conventional but still uniquely Kubikian musical world.

The final work on the album is Kubik's 1942 work, Stewball: Four Variations for Band, and it's quite a delightful piece based on the American folk tune. It's great to be able to bring this music to CD. Gail Kubik was a real original and his music deserves to be heard.

GAIL KUBIK is limited to 500 copies only and priced at $19.98, plus shipping. This is a PRE-ORDER – CDs will ship by the third week of December, but never fear, we've actually been averaging three to five weeks early in terms of shipping ahead of the official ship date.

Also note that your PayPal receipt is the only receipt you get – we don't send out confirmations beyond that.