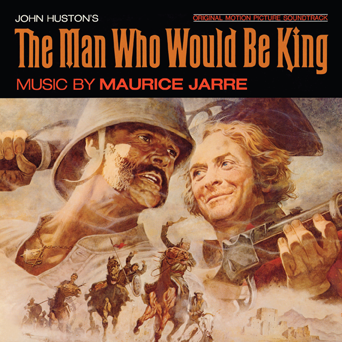 "WE ARE NOT LITTLE MEN"
Kritzerland is very proud to present a new limited edition CD soundtrack release:
THE MAN WHO WOULD BE KING
Music Composed and Conducted by Maurice Jarre
John Huston's 1975 film of Rudyard Kipling's The Man Who Would Be King was a project he'd been longing to do for twenty years. And watching the film you can see why – it's a brilliant, ripping adventure yarn about larger-than-life men doing larger-than-life things. It's one of those films where everything just came together in perfect symmetry. It was a project Huston was born to direct, he had two extraordinary stars in Sean Connery and Michael Caine, a great cameraman in Oswald Morris, perfect costume design by the legendary Edith Head, and the brilliant production design of the great Alexander Trauner. And certainly right up there with all those extraordinary artists was the composer Maurice Jarre, who provided the film with a wonderful score, one of his best, despite the score's brevity.
Maurice Jarre and Huston had already done The Life and Times of Judge Roy Bean and The Mackintosh Man together. Jarre had, by that time, become legendary for his Academy Award-winning scores for two David Lean masterpieces, Lawrence Of Arabia and Dr. Zhivago as well as his classic scores for The Collector, Eyes Without A Face, Sundays and Cybele, Ryan's Daughter and A Passage To India (also for David Lean), Grand Prix, The Professionals, Resurrection, Shogun, Mad Max Beyond Thunderdome, Fatal Attraction, Dead Poet's Society, Witness, and Ghost, among many others. In The Man Who Would Be King Jarre delivered exactly the score Huston wanted – understated yet filled with majesty and wonderful orchestral textures. The score is played by the National Philharmonic, along with several of the then-greatest Indian musicians. It is robust, exotic, moving and one of Jarre's finest achievements in a career filled with fine achievements.
The Man Who Would Be King was originally released on a Capitol LP. Its first CD release was on Bay Cites back in the early 1990s. That release went out of print in 1993 and immediately became a pricey collector's item. Since Kritzerland had its genesis in Bay Cities, it is particularly gratifying to be able to bring back The Man Who Would Be King to CD on Kritzerland. The CD has been completely and lovingly remastered, fixing several problems inherent in the original release.
This release is limited to 1000 copies only. The price is $19.98 plus shipping.
CD will ship by the second week of April – however, preorders placed directly through Kritzerland usually ship one to five weeks earlier (we've been averaging four weeks early).