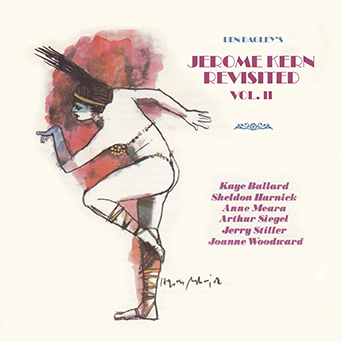 Kritzerland is proud to present a great new release – another in our ongoing Ben Bagley series of reissues:
JEROME KERN REVISITED VOLUME II
Music by Jerome Kern
Lyrics by Guy Bolton, Anne Caldwell, Dorothy Fields, Oscar Hammerstein, Otto Harbach, Gus Kahn, Herbert Reynolds, Harry B. Smith, P.G. Wodehouse
This is the second volume of Jerome Kern we've released and it's another complete delight, with a great cast including Joanne Woodward, Kaye Ballard, Sandy Stewart, Jerry Stiller, Anne Meara, lyricist Sheldon Harnick, Sarah Rice, Arthur Siegel, and more. The musical arrangements and musical direction are by long-time Bagley regular, Dennis Deal. There are, as always, lots of great Ken rarities, a treasure trove of great tunes with great lyrics by some amazing lyricists, from shows such as Sitting Pretty, Oh! Boy!, Love O'Mike, High, Wide and Handsome, Nobody Home, The Canary, and others. That is the joy of these albums, not hearing the tried and true, but hearing the neglected and unknown. There are two bonus tracks from a revival of Show Boat, too, and as always, we've really spruced up the sound, and we of course give you the great Harvey Schmidt artwork.
JEROME KERN REVISITED VOLUME II is limited to 500 copies only and priced at $19.98, plus shipping. This is a PRE-ORDER – CDs will ship by the third week of August, but never fear, we've actually been averaging three to five weeks early in terms of shipping ahead of the official ship date.
Also note that your PayPal receipt is the only receipt you get – we don't send out confirmations beyond that.
(Click on cover for enlarged version)

• Click on titles below to hear a song sample:

Oh! Boy! Medley ~ Jerry Stiller, Anne Meara,
Angelina Reaux and the Boys, and Chorus
Every Little While ~ Blythe Walker
Sitting Pretty ~ Mark Sendroff and The Girls
• It Wasn't My Fault ~ Kaye Ballard
• Worries ~ Sheldon Harnick
• The Things I Want ~ Sandy Stewart
The Magic Melody Medley ~ Kaye Ballard,
Arthur Siegel, and Chorus
Day Dreaming ~ Jennifer Bassey
Oh, Lady! Lady! Medley ~ John O'Hurley, Sarah Rice, and Chorus
I Dream Too Much ~ Arthur Siegel
• Here Am I ~ Karen Wyman
The Enchanted Train ~ Sheldon Harnick
Bullfrog Patrol ~ Joanne Woodward
and Andy Anselmo
• You're Here and I'm Here ~ Sandy Stewart
and Arthur Siegel
Bonus Tracks
Mis'ry's Comin' Aroun' ~ The 1983 Revival Cast
• Hey, Feller ~ Karla Burns and Ensemble
Music by Jerome Kern
Lyrics by Guy Bolton, Anne Caldwell, Dorothy Fields, Oscar Hammerstein, Otto Harbach, Gus Kahn,
Herbert Reynolds, Harry B. Smith, P.G. Wodehouse
Vocal and Musical Arrangements: Dennis Deal
Additional Musical Arrangements: John McGlinn, Larry Moore, and Bill Tynes