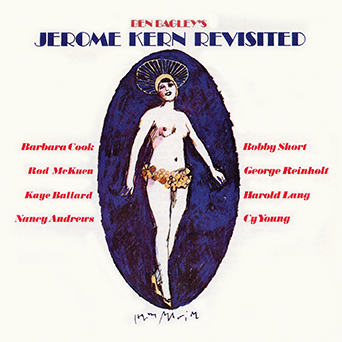 Kritzerland is proud to present the latest release in the Ben Bagley Revisited series:
BEN BAGLEY'S JEROME KERN REVISITED
Music by Jerome Kern
Lyrics by Guy Bolton, Anne Caldwell, Dorothy Fields, Ira Gershwin, E.Y. Harburg, Oscar Hammerstein, Elsie Janis, Johnny Mercer, Booth Tarkington, P.G. Wodehouse
Jerome Kern was one of the greatest and most important composers of theater, film, and popular music, and one of the great melodists of all time. Between 1915 and 1920, Kern wrote sixteen Broadway scores. Kern was extremely prolific all throughout the 1920s, writing a series of popular musicals known as the Princess Theatre musicals. And then, in 1927 came the show that would change everything. The show was, of course, Show Boat, adapted from Edna Ferber's novel by Oscar Hammerstein. It produced a large number of classic songs, including "Can't Help Lovin' Dat Man," "Make Believe," "Live Upon the Wicked Stage," "Why Do I Love You," "Bill" (with lyrics by P.G. Wodehouse), and, of course, "Ol' Man River."
Kern found equal success in Hollywood, writing classic scores for such films as Roberta, Swing Time, You Were Never Lovelier, Cover Girl, Centennial Summer, and many others. Those films yielded yet more classics from Kern and his lyricists, including "I Won't Dance," "A Fine Romance," "Pick Yourself Up," "The Way You Look Tonight," "Long Ago and Far Away," "I'm Old Fashioned," "Sure Thing," "Up with the Lark," just to mention a handful.
His music lives on, rediscovered by every new generation, who are entranced by those Kern tunes, ear candy of the highest order.
Ben Bagley's Jerome Kern Revisited actually has a few of Kern's hit songs, but of course it is loaded with the lesser-known Kern. Bagley assembled a wonderful cast of singers, including Barbara Cook, Bobby Short, Nancy Andrews, Harold Lang, Rod McKuen, Kaye Ballard, Cy Young, and George Reinholt. Norman Paris, who did several Revisiteds, was the musical director and arranger. As we've done for all these releases, we've considerably spruced up the sound for this new release. And the cover art is, of course, by the great Harvey Schmidt.

JEROME KERN REVISITED is limited to 500 copies only and priced at $19.98, plus shipping. This is a PRE-ORDER – CDs will ship by the third week of April, but never fear, we've actually been averaging three to five weeks early in terms of shipping ahead of the official ship date.

Also note that your PayPal receipt is the only receipt you get – we don't send out confirmations beyond that.