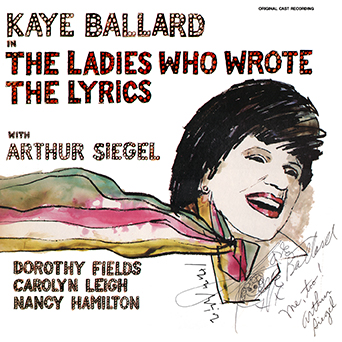 Kritzerland is proud to present the latest release in the Ben Bagley Revisited series:
THE LADIES WHO WROTE THE LYRICS starring Kaye Ballard
Music by Elmer Bernstein, Cy Coleman, Morton Gould, Albert Hague, Morgan Lewis, Jimmy McHugh, Jerome Kern, Johnny Richards, Arthur Schwartz, Jule Styne,
Lyrics by Dorothy Fields, Nancy Hamilton, Carolyn Leigh
First of all, Kaye Ballard was a national treasure and a brilliant singer/comedienne. This album is the result of Kaye's show, The Ladies Who Wrote the Lyrics, and it was about time someone saluted lady lyricists. In fact, Ben Bagley, who produced the album, could have done many more Revisited albums just using female lyricists and composers. The composers here are a laundry list of the greats, from Cy Coleman to Jerome Kern, Jimmy McHugh, Arthur Schwartz, and Jule Styne, to film composer Elmer Bernstein (who did two Broadway musicals), and the likes of Morton Gould, Albert Hague, Morgan Lewis, and Johnny Richards. There are a lot of songs and this huge compendium and love letter to Doroth Fields, Nancy Hamilton, and Carolyn Leigh will show you just how great they were. You've got standalone pop songs and songs from such films and shows as Little Me, Sweet Charity, How Now, Dow Jones?, Seesaw, Swing Time, Arms and the Girl, By the Beautiful Sea, A Tree Grows in Brooklyn, Peter Pan and more. Arthur Siegel is at the piano.
The New York Times raved, "Kaye Ballard is an engaging anomaly – a musical comedy veteran who is still a starstruck fan, an urban sophisticate with a self-deprecating clownish sense of herself." The New York Post said, "Ballard's voice can be surprisingly sweet and light – but, of course, the comedienne in her knows how to belt, too. Her off-handed, throwaway patter is delightful."
As we've done for all these releases, we've considerably spruced up the sound for this new release. And the cover art is, of course, by the great Harvey Schmidt.
THE LADIES WHO WROTE THE LYRICS starring Kaye Ballard, is limited to 500 copies only and priced at $19.98, plus shipping. This is a PRE-ORDER – CDs will ship the third week of July, but we always strive to get it out earlier. Lately, however, the pressing plant has been slower than usual due to various shortages of materials and help – we do keep on them, but we're at their mercy.
Also note that your PayPal receipt is the only receipt you get – we don't send out confirmations beyond that.
Click on CD cover for enlarged version

• Click on titles below to hear a song sample:

CAROLYN LEIGH
• 1. Don't Ask the Lady What the Lady Did Before
2. Medley
• 3. I Wanna Be Yours
4. Medley
5. It Amazes Me
6. Little Me Medley
7. Killing Time
NANCY HAMILTON
8. The Old Soft Shoe
9. He's a Millionaire
DOROTHY FIELDS
10. Intro
11. Dorothy Fields Medley
12. Dorothy Fields Medley 2
13. After Forty It's Patch, Patch, Patch
14. Dorothy Fields Medley 3
15. Please Don't Send Me Down a Baby Brother
• 16. Make the Man Love Me/I'll Buy You a Star
17. He Had Refinement
18. Dorothy Fields Medley 4
• 19. Finale Medley
20. Thank You for a Lovely Evening
Musical Arrangements and Pianist: Arthur Siegel
Music by Elmer Bernstein, Cy Coleman, Morton Gould, Albert Hague, Morgan Lewis, Jimmy McHugh, Jerome Kern, Johnny Richards, Arthur Schwartz, Jule Styne