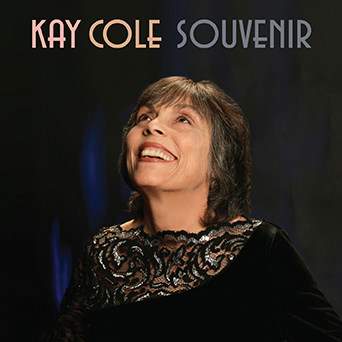 Kritzerland is proud to present the debut solo album from the original Maggie from A Chorus Line:
KAY COLE - SOUVENIR
Musical Direction by John Boswell
In 1975, A Chorus Line took Broadway by storm and ran a then astonishing fifteen years, at that time the longest running musical in history. Featured in that original brilliant company was a diminutive powerhouse named Kay Cole as Maggie. In the song "At The Ballet," composer Marvin Hamlisch wrote her one of the greatest money notes in history and when Kay hit it it was like the heavens opened – it was a great Broadway voice of incredible purity and power, but also subtlety and nuance.
Kay was already a musical theater veteran by that time. As a young performer she'd played Amaryllis in the first national tour of The Music Man with Forrest Tucker, she'd been on Broadway and the tour of the original production of Bye Bye Birdie, she'd co-starred opposite the then-just-starting-out Liza Minnelli in Best Foot Forward, she did Stop the World, I Want to Get Off with Anthony Newley, and she was in the original cast of Newley's The Roar of the Greasepaint, Smell of the Crowd. A few years later she did Hair, Jesus Christ, Superstar, and I'm Getting My Act Together and Taking It on the Road.
It's taken a little over forty years for Kay to do her first solo album. Why? Well, back in the day of A Chorus Line they simply weren't doing that kind of album. And then Kay began a successful career as a director/choreographer, making only occasional appearances. A long friendship with record producer Bruce Kimmel would always result in conversations about doing an album, but other jobs came and went and time marched on – but the album was always something both wanted to do. In 2013 Kimmel convinced Kay to come guest star in one of his monthly Kritzerland cabaret shows (now in their sixth year), and that performance was so magical, that she came back several times to enchant audiences there. And conversations about the album began again. And finally, here it is.
Kay Cole – Souvenir is an intensely personal journey through songs that resonate with Kay and that she loves singing. A true collaboration between her, producer Bruce Kimmel, and John Boswell, her amazing musical director, the CD is filled with great songs – some Broadway, some pop, but all wonderfully melodic, funny, touching, and lovingly sung. The voice, the purity, the power, the subtlety, the nuance is all there. There are songs from shows she's done (Bye Bye Birdie, Best Foot Forward and, of course, A Chorus Line – singing the song that was actually supposed to be sung by her originally but wasn't), along with an eclectic and great selection of others by Jerome Kern and Oscar Hammerstein, Carly Simon, Billy Joel, Al Dubin and Harry Warren, and other greats.
It's been a long time coming, but we hope you'll agree that the wait was worth it.
Kay Cole – Souvenir is priced at $19.98, plus shipping.
NOTE: THE FIRST 100 ORDERS RECEIVED WILL GET A SIGNED COPY AT NO EXTRA CHARGE. IF THAT INTERESTS YOU WE RECOMMEND ORDERING IMMEDIATELY, AS WE WILL GO IN THE STRICT ORDER IN WHICH THEY ARE RECEIVED.
ATTENTION INDIEGOGO CONTRIBUTORS: FOR THIS RELEASE – IF YOU WANT TO RECEIVE THIS CD YOU NEED TO OPT-IN BY SENDING US AN E-MAIL OPTING IN PRIOR TO THE DATE IT SHIPS – SEND TO kritzerland@gmail.com. IF YOU DON'T WISH TO RECEIVE IT, YOU DON"T NEED TO DO ANYTHING. IF YOU ARE NOT AN INDIEGOGO CONTRIBUTOR, ORDER AS YOU NORMALLY WOULD. THANK YOU.
CDs will ship by the second week of February, but we've actually been averaging three to five weeks early in terms of shipping ahead of the official ship date.