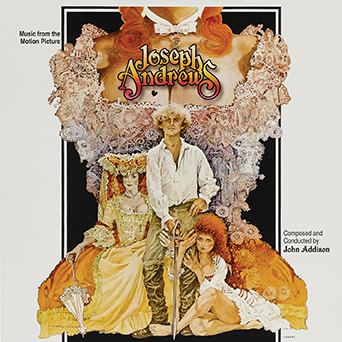 Kritzerland is proud to present a new world premiere limited edition release

JOSEPH ANDREWS

Composed and Conducted by John Addison

In 1963, director Tony Richardson struck gold with his film adaptation of Henry Fielding's Tom Jones. Beloved by critics and audiences, Jones was a huge hit, the fourth most successful film of that year and a winner of four Academy Awards – including Best Picture, Best Director and Best Score. Fourteen years and many films later, Richardson decided to pay Henry Fielding another visit, hoping the same formula would result in another box-office winner. This time the source was Fielding's Joseph Andrews, the author's first full-length published novel and, indeed, one of the earliest novels written in English. For the film, Richardson assembled a stellar team, both behind and in front of the camera. The cast included Peter Firth as the eponymous Joseph, Ann-Margret as Lady Booby, Michael Hordern, Jim Dale, Beryl Reid and Penelope Wilton (of Downton Abbey), along with cameos by John Gielgud, Hugh Griffith (repeating his role of Squire Western from Tom Jones) and Peggy Ashcroft. Also along for the ride was composer John Addison, who'd won the Oscar for Best Score for Richardson's Tom Jones, and who had an amazingly long and fruitful composer/director collaboration with Richardson, resulting in great scores for films such as The Entertainer, A Taste of Honey, The Loneliness of the Long Distance Runner, The Charge of the Light Brigade, The Loved One, Dead Cert and The Phantom of the Opera.

Addison's score is wonderful and melodious music – it's pastoral, jaunty and often quirky in its instrumentation, conjuring up the world of Fielding and all of the film's colorful characters. Addison was a master at this kind of score and Joseph Andrews is prime John Addison.

This world-premiere release of Addison's music for the film was taken from the mono mixdown tapes, which were in great condition in the Paramount vaults.

Joseph Andrews is limited to 1000 copies only and is priced at $19.98, plus shipping.

CDs will ship by the third week of February, but we've been averaging three to four weeks early in terms of shipping ahead of the official ship date.