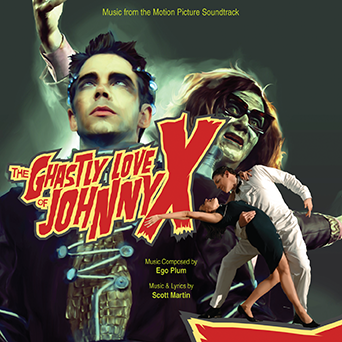 Kritzerland is proud to present a new limited edition soundtrack CD for a brand new sci-fi musical film:

THE GHASTLY LOVE OF JOHNNY X

Music Composed by Ego Plum
Songs by Scott Martin

What is The Ghastly Love of Johnny X? Is it science fiction? Is it a musical? Is it homage? Yes, yes, and yes. but above all it's a completely unique, weird, wild, and wacky movie, from the unique, weird, wild, and wacky imagination of filmmaker Paul Bunnell. Shot in gorgeous black-and-white scope, it's not an easy film to describe and it's best just to see it as soon as you possibly can (it's currently making the rounds of many film festivals). It's clever, funny, quirky, with an occasional dash of David Lynchian weirdness, and it's sort of unlike any other film you've seen. And any movie that has Kevin McCarthy AND Paul Williams is worth catching.

Composer Ego Plum has come up with a fantastic score – big, orchestral, and immensely entertaining. Occasionally channeling the ghosts of Bernard Herrmann (especially The Day the Earth Stood Still), John Williams, Jerry Goldsmith, and Franz Waxman (especially The Bride of Frankenstein), Plum's score is infectious, melodic, and grand fun, and despite the occasional homages, wildly original. Big orchestra, choir, the ubiquitous theremin sound, a twangy guitar, all of it – a classic sci-fi genre score. Add to that clever and catchy songs (six of 'em) by composer/lyricist Scott Martin (and orchestrated by Plum) and you have one incredibly entertaining seventy-minute CD.

The Ghastly Love of Johnny X – resistance is futile.

The Ghastly Love of Johnny X is limited to 1000 copies only. The price is $19.98, plus shipping.

CD will ship the third week of November – however, never fear, preorders placed directly through Kritzerland usually ship one to five weeks earlier (we've been averaging four weeks early).