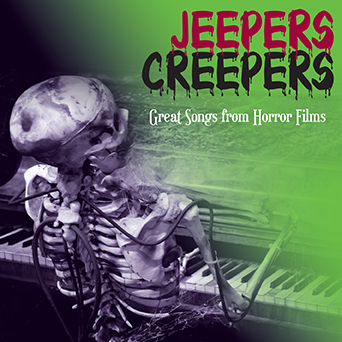 Kritzerland is proud to present a new limited edition release

JEEPERS CREEPERS – GREAT SONGS FROM HORROR FILMS

Warning: This album is SCARRRRRY.

We're pleased to present a wonderful compendium of songs from horror films (mostly), featuring a stellar cast of Broadway and Hollywood performers. Featuring songs from such great films as Whatever Happened to Baby Jane?, The Blob, Hush…Hush, Sweet Charlotte, Mothra, Attack of the Puppet People, The Uninvited, Frankenstein Meets the Wolf Man, Who Killed Teddy Bear?, What's the Matter With Helen, Circus of Horrors, and more, sung by Brent Barrett, Katherine Helmond, Judy Kaye, Rebecca Luker, Remy Zaken, Lynnette Perry, Alison Fraser, Tami Tappan, Jason Graae, Christiane Noll, Michelle Nicastro, Sharon McNight, and more, with special appearances by horror icon, Zacherley, and Attack of the Puppet People co-star Susan Gordon (daughter of the film's director, Bert I. Gordon).

While the films may have been scary, the songs are anything but – the are beautiful, like the classic "Stella by Starlight" and "The Faithful Heart" (from Journey to the Center of the Earth), while others are pure fun, like Burt Bacharach's classic song from The Blob, while some are just plain obscure yet great, like the amazing "Who Killed Teddy Bear?" from the film of the same name.

Originally released in 2003, the album has been out of print for many years. We've given it a fresh remastering and new cover art. Produced by Bruce Kimmel, this was the very first CD to feature the Kritzerland logo and name – a co-production with Red Circle. Kritzerland officially made its debut as a label in 2005. Orchestrations and Musical Direction by Grant Geissman (composer of Two-and-a-Half Men and Mike and Molly).

Jeepers Creepers – Great Songs from Horror Films is limited to 1000 copies only and is priced at $19.98, plus shipping.

CDs will ship by the third week of March, but we've been averaging three to five weeks early in terms of shipping ahead of the official ship date.
(Click on cover for enlarged version)
• Click on titles below to hear a song sample:



• WHO KILLED TEDDY BEAR?
from Who Killed Teddy Bear?
performed by Tami Tappan-Damiano
GOODY GOODY
from What's The Matter With Helen?
performed by Lynnette Perry
with special appearance by Zacherley
LOOK FOR A STAR
from Circus of Horrors
performed by Guy Haines
• I'VE WRITTEN A LETTER TO DADDY
WHAT EVER HAPPENED TO BABY JANE?
from What Ever Happened to Baby Jane?
performed by Katherine Helmond and Remy Zaken
• THE FAITHFUL HEART
from Journey to the Center of the Earth
performed by Rebecca Luker
HEY, YOU!
from The Mummy's Curse
FARO-LA, FARO-LI (SONG OF THE NEW WINE)
from Frankenstein Meets the Wolf Man
performed by Judy Kaye and The Scarlettes
• HUSH...HUSH, SWEET CHARLOTTE
from Hush...Hush, Sweet Charlotte
performed by Christiane Noll
JEEPERS CREEPERS
from Jeepers Creepers
performed by Sharon McNight
THE BLOB
from The Blob
performed by Alison Fraser
AURORA
from Hold That Ghost
performed by Michelle Nicastro
• MOTHRA'S SONG
from Mothra
performed by
Theresa Finamore and Juliana A. Hansen
YOU'RE MY LIVING DOLL
from Attack of the Puppet People
performed by Susan Gordon
• STELLA BY STARLIGHT
from The Uninvited
performed by Brent Barrett
• WAS A TEENAGE HORROR MEDLEY:
YOU GOTTA HAVE EEE-OOO
from How to Make a Monster
EENY MEENY MINEY MOE
from I Was a Teenage Werewolf
DADDY BIRD
from Frankenstein's Daughter
performed by Jason Graae