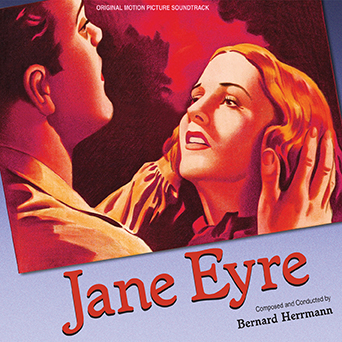 Kritzerland is proud to present another Golden Age Bernard Herrmann classic score:

JANE EYRE

Composed and Conducted by Bernard Herrmann

The 1943 film of Jane Eyre was a first-class affair straight down the line, from it's wonderful direction by Robert Stevenson to its literate screenplay by Stevenson, Aldous Huxley, John Houseman and others, to its formidable cast, including Joan Fontaine and Orson Welles, along with the amazing character actors Henry Daniell, Agnes Moorehead, and Sara Allgood, and Margaret O'Brien and Peggy Ann Garner as young Jane (a subtle and beautiful performance), and an unbilled, young Elizabeth Taylor as Helen Burns.
The gorgeous photography was by veteran George Barnes. The resulting film was a truly remarkable movie – evocative, gothic, romantic, and managing to capture the dark, brooding essence of Charlotte Bronte's masterpiece.

The studio attempted to persuade classical composer Igor Stravinsky to make his film debut with Jane Eyre, but that didn't happen. Bernard Herrmann really wanted to score the film but didn't think he had a chance, but happily, Alfred Newman, head of the Fox music department, was a fan of Herrmann and he gave him the assignment, thus beginning Herrmann's long and brilliant association with Fox.

Herrmann could not have made a more auspicious debut at Fox than with Jane Eyre, a perfect marriage of film and composer. The score captures the Bronte world right from the main title, which, unlike today's abbreviated main titles, immediately draws you in and sets the tone of the film. His incredible string and reed writing is especially evident in this score, and his themes are simply stunning. The Herrmann musical signature is in evidence in every bar of the score – his music never sounds like any other composer and is instantly identifiable. Jane Eyre remains one of the cornerstones of his film-scoring career, as fresh, mysterious, beautiful, and vibrant today as it was back in 1943.

Jane Eyre was previously released in the Varese Sarabande Bernard Herrmann at Fox box set, that sold out almost instantly. It's been great to be able to make so much of the contents of that box available in separate releases for those who missed out.

Jane Eyre is limited to 1000 copies only and is priced at $19.98, plus shipping.

CDs will ship by the last week of May, but we've actually been averaging three to five weeks early in terms of shipping ahead of the official ship date.

ATTENTION INDIEGOGO CONTRIBUTORS: FOR THIS RELEASE – IF YOU WANT TO OPT-OUT OF RECEIVING IT YOU WILL NEED TO SEND US AN E-MAIL OPTING OUT PRIOR TO THE DATE IT SHIPS – SEND TO kritzerland@gmail.com. IF YOU WISH TO RECEIVE IT, YOU DON"T NEED TO DO ANYTHING. IF YOU ARE NOT AN INDIEGOGO CONTRIBUTOR, ORDER AS YOU NORMALLY WOULD. THANK YOU.