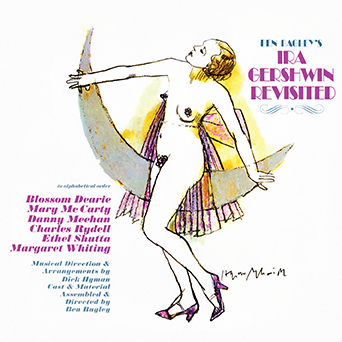 Kritzerland is proud to present a new musical theatre album:

BEN BAGLEY'S IRA GERSHWIN REVISITED

Lyrics by Ira Gershwin
Music by George Gershwin, Vernon Duke, Burton Lane, Arthur Schwartz, Harry Warren, Kurt Weill

Ira Gershwin Revisited was one of the most fun of the Ben Bagley Revisited series. He assembled a great cast and Dick Hyman provided really wonderful arrangements.

Aside from the many classics written with brother George, after George's sad and untimely death at the age of thirty-eight, Ira went on to collaborate with some other great composers, with much success, including Vernon Duke, Burton Lane, Arthur Schwartz, Harry Warren, and Kurt Weill. Ira's facility for wordplay and rhyme is absolute genius – his turns of phrases, his titles, the ability to put a smile on your face or bring tears to your eyes or make you laugh out loud was, in a word, dazzling.

For Bagley's Revisited series, the songs were not the hits, but the lesser known works and sometimes completely unknown works. Ira Gershwin Revisited is loaded with gems. There are several wonderful songs from the 1953 MGM musical film Give a Girl a Break, which starred Debbie Reynolds, Marge and Gower Champion, a young Bob Fosse, and an uncredited George Chakiris. There are songs from George White's Scandals, The Barkleys of Broadway, A Dangerous Maid, Treasure Hunt, Ziegfeld Follies, The Firebrand of Florence, Where Do We Go from Here, and Park Avenue.

This thoroughly delightful album is loaded with sparkling performances by Blossom Dearie, Mary McCarty, Danny Meehan, Charles Rydell, Ethel Shutta, and Margaret Whiting. For the original CD release, Bagley added a few songs, and those are sung by Dody Goodman, Paula Lawrence, KT Sullivan, and Arthur Siegel. Honestly, who could ask for anything more?

IRA GERSHWIN REVISITED is limited to 500 copies only and priced at $19.98, plus shipping. CDs will ship by the second week of July, but never fear, we've actually been averaging three to five weeks early in terms of shipping ahead of the official ship date.

ATTENTION INDIEGOGO CONTRIBUTORS:

IF YOU WISH TO RECEIVE THIS RELEASE YOU MUST OPT-IN BY SENDING US AN E-MAIL – SEND TO kritzerland@gmail.com. IF YOU DO NOT WISH TO RECEIVE IT, YOU DON"T NEED TO DO ANYTHING. IF YOU ARE NOT AN INDIEGOGO CONTRIBUTOR, ORDER AS YOU NORMALLY WOULD. THANK YOU.