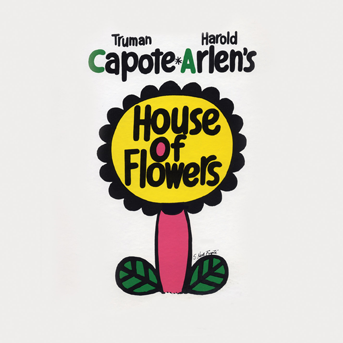 Kritzerland is proud to present the first ever CD release of the 1968 Revival Cast Recording of House Of Flowers, with a score by Harold Arlen and Truman Capote.
House Of Flowers originally opened on Broadway in 1954, where it received tepid critical notices, although both score and cast were praised, and how could they not be? The show, based on a short story by Truman Capote, didn't last long. However, Capote had thought that production was too big, too Broadway – "I wanted it to be a simple thing," Capote had said. And so in 1968, Capote and the show's original producer, Saint Subber, revived the show for the first time – not on Broadway, but at the 299-seat Theater de Lys off-Broadway, in a simplified, pared-down version. As Capote said at the time, "This is going to be the show we meant to present." Sadly, even the simplified, pared-down version received tepid notices and folded quickly.
Whatever audiences and critics thought of the show itself, the score remains a glorious thing, filled with one incredible Arlen/Capote song after another, including several that have gone on to become standards, including "A Sleepin' Bee," "Don't Like Goodbyes," "Two Ladies In De Shade Of De Banana Tree," and "I Never Has Seen Snow." The off-Broadway production was directed by Joseph Hardy, and featured a terrific cast – Yolande Bavan, Josephine Premice, Daniel Barrajanos, Charles Moore, Tom Helmore, Thelma Oliver and others.
The revival was fortunate to receive a cast album courtesy of United Artists Records. This cast album is a very different beast from the original Broadway cast album – there are fantastic new arrangements and orchestrations by the then up-and-coming Joe Raposo, who would go on to legend status for writing some of the most beloved children's songs ever for Sesame Street. His work is much funkier and much more in tune with the Caribbean flavor of the score and it's a constant delight to hear where he takes the score. Also, there are new numbers not originally featured in the Broadway version, which makes this a must-have for Arlen and show completists – they include "Somethin' Cold To Drink" which features one of Arlen's most delectable melodies, and the rousing "Jump de Broom."
This revival cast recording of House Of Flowers is tuneful, fun, well-sung, and, as Capote said, "… a simple thing" – and in all the right ways.
The CD is a Limited Edition of 1000 copies only.