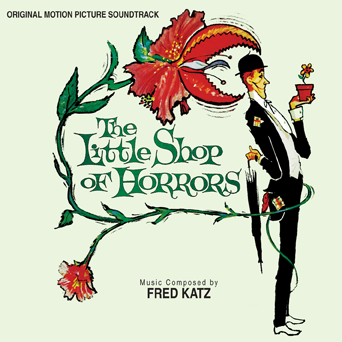 "FEEEEEEED ME!"
Kritzerland is very happy to present a new limited edition CD:
THE LITTLE SHOP OF HORRORS
Music Composed by Fred Katz
Long before the words "cult movie" existed, Roger Corman's 1960 film The Little Shop of Horrors came along and pretty much defined those words. Filmed in only two days (on sets left over from another movie) on a miniscule budget that today probably wouldn't pay for the craft service table on a movie set, somehow all the elements—a truly witty script by Charles B. Griffiths, a wonderful cast, including Jonathan Haze, Mel Welles, Jackie Joseph, Dick Miller, and a young Jack Nicholson, and let's-get-it-done direction by Corman—came together to make an inspired and hilarious comedy. Little Shop was originally released as the bottom half of two double bills—first playing second to Mario Bava's Black Sunday, and, a year later, playing below The Last Woman On Earth. But it wasn't those lower-half showings where it found its success—no, it was local TV broadcasts that made Little Shop a cult movie phenomenon. That's where most people discovered it, and over the years, thanks to endless video incarnations (the film is in the public domain) it has become a true classic, seen by millions of people.
"I'M HUUUUUNGRY!"
The score to Little Shop was written by Fred Katz. Katz, born in 1919, was a child prodigy on both piano and cello, but would become a well-known cellist in the Los Angeles music scene of the 1950s—the first really to take the cello into the jazz arena. He became part of the very unique Chico Hamilton Quintet and was both heard and seen in the film Sweet Smell Of Success. At some point in the late 1950s, Corman found Katz or Katz found Corman and the two collaborated on several films, including A Bucket Of Blood, The Wasp Woman, Ski Troop Attack, Little Shop, and Creature From The Haunted Sea. Katz's score perfectly accompanies a film that is occasionally worthy of Ionesco in its surreal weirdness. In fact, Katz's music is as much fun as the film—it's funky, jazzy, beat, hipster music, with occasional horror touches, that will keep a smile on your face or conjure up wonderful memories of Seymour Krelboin, Gravis Mushnick, Audrey Fulquard, Burson Fouch, Wilbur Force, and, of course, the great Audrey Junior.
The CD is in mono, as recorded, and is in as close to film order as we could get it.
This release is limited to 1000 copies only. The price is $19.98 plus shipping.
CD will ship by the last week of May – however, preorders placed directly through Kritzerland usually ship one to five weeks earlier (we've been averaging four weeks early).