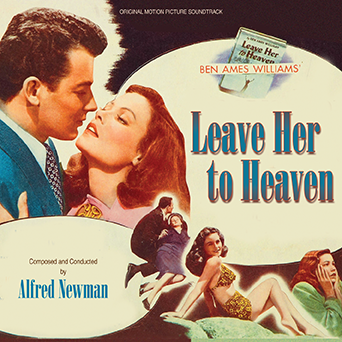 Kritzerland is proud to present a new limited edition soundtrack CD release of a classic score to a classic film, complete for the first time on CD, and coupled with a world premiere release:

LEAVE HER TO HEAVEN

and

TAKE CARE OF MY LITTLE GIRL

Music Composed and Conducted by Alfred Newman

What becomes a psychopath most? Well, in the case of Leave Her to Heaven (1945), it wasn't moody black-and-white, it was ravishing Technicolor and the radiant Gene Tierney. But can Technicolor and film noir walk hand in hand? In Leave Her to Heaven the answer is a resounding yes. Based on the successful novel by Ben Ames Williams, Twentieth Century-Fox gave Leave Her to Heaven the class treatment all the way down the line. In addition to a wonderful behind-the-camera creative team, Fox assembled a perfect cast, which included Gene Tierney, Cornel Wilde, Jeanne Crain, Vincent Price, Darryl Hickman, and character actors Chill Wills, Ray Collins, Gene Lockhart, and Reed Hadley and you had the recipe for success. And what a success it was – audiences flocked to the film and it was Fox's highest grossing film of the 1940s. The film received rave reviews for all concerned and, in addition to Gene Tierney's Oscar nomination for Best Actress, received three other Oscar nominations: Best Art Direction – Interior Design - Color, Best Sound, Recording, and Best Cinematography – Color. Leon Shamroy took home the prize for his stunning work on the film.

Over the years, Leave Her to Heaven's reputation has only continued to grow. Martin Scorsese has said it's one of his all-time favorite movies. Of course, what helps make Leave Her to Heaven the classic it is is yet another great score from Alfred Newman. It's short, but what's there is choice Newman, beginning with the three ominous tympani hits leading into a classic Newman main title, and then his beautiful underscore at just the right moments. Half of what great film scoring is about is where, when and how to use music and no one was better at understanding that than Alfred Newman.

The previous release of Leave Her to Heaven on FSM presented only about twelve minutes of the score – here we present it complete and in improved sound from first generation elements, with the exception of the cue "Danny," which was taken from the only available source, which wasn't quite of the quality of the rest.

Because of the brevity of Leave Her to Heaven, we've paired it with the never-before-released Newman score to the Fox film Take Care of My Little Girl. While the two films couldn't be further apart, they do share a few similarities – Jeanne Crain appears in both, and one source cue from Leave Her to Heaven ended up in Take Care of My Little Girl and we present that cue as the bridge between both scores. The 1952 Technicolor film was directed by Jean Negulesco, with a screenplay by Julius J. Epstein and Philip G. Epstein (from the novel by Peggy Goodin), and starred Jeanne Crain, Dale Robertson, Mitzi Gaynor, Jean Peters, and Jeffrey Hunter.

We're thrilled to present the first ever complete release of Leave Her to Heaven alongside a new-to-CD Newman score – another Newman treasure unearthed.

Leave Her to Heaven/Take Care of My Little Girl is limited to 1000 copies only. The price is $19.98, plus shipping.

CD will ship the third week of May but preorders placed at Kritzerland usually ship one to five weeks early (we've been averaging four weeks).