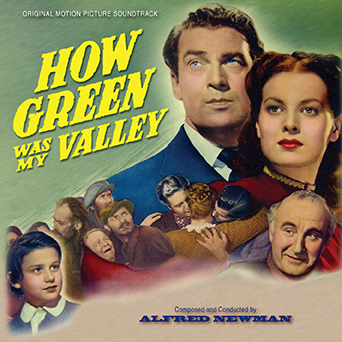 Kritzerland is proud to present a new limited edition soundtrack CD release of an all-time classic score to an all-time classic film:

HOW GREEN WAS MY VALLEY

Music Composed and Conducted by Alfred Newman

Richard Llewellyn's 1939 novel, How Green Was My Valley, was a popular success, so much so that Twentieth Century-Fox purchased the screen rights immediately and released their Academy Award-winning film version just two years later. And what a film it was – lyrical, poetic, beautiful, dramatic, heartwarming, funny – with a perfect cast including Walter Pidgeon, Maureen O'Hara, Donald Crisp, and young Roddy McDowell. Add to that the simple yet majestic direction by John Ford and you had a film that audiences flocked to and loved and have loved ever since, generation to generation, on television, and then home video and now Blu-ray. The film won the 1941 Best Picture Oscar (over Citizen Kane), as well as Oscars for direction, supporting actor, cinematography and art direction. It received five other nominations, including one for the magnificent and magical score by Alfred Newman.

Newman's score stands high at the top of his many brilliant achievements. His main theme is one of the most memorable and beautiful works he ever created. The score is simply one brilliant cue after another, each capturing the humanity and warmth of the characters, setting the mood, underscoring the drama and pathos and humor as only Alfred Newman could.

The previous Arista CD release of How Green Was My Valley, which has been out-of-print for many, many years, was almost but not quite complete. The previous release was taken from a premixed and assembled 1/4" element that had been retained by Len Engel. This new Kritzerland edition comes from Fox's archival 1/4" rolls made in the 1980s off the first generation optical film, and was newly restored, mixed, and assembled, allowing for the opening up of many of the cues that had previously been combined together. Most of the cues were recorded with separate close-up and long shot perspectives, allowing for the creation of a stereo presence. Other cues were recorded with monaural sound only. The score is presented chronologically, with mono and stereo material indexed separately. The sound is much improved save for only two cues, the main and end title, which were available to us only in the condition they were in. Happily, the main title is very short and is completely vocal with no orchestra – once that's done we settle in to the beautiful, lush, rich sound that was a Fox and Alfred Newman trademark. As a bonus we present the end title in stereo without the vocal. The film was recently released on Blu-ray and the CD is a perfect companion to it.

And be sure to check out our other release, which is A Time For Singing, the musical version of How Green Was My Valley – how often can that happen? A Time For Singing has a score by John Morris and lyrics by Gerald Freedman and Morris. A perfect way to celebrate St. Patrick's Day!

How Green Was My Valley is limited to 1000 copies only. The price is $19.98, plus shipping.

CD will ship the last week of April but preorders placed at Kritzerland usually ship one to five weeks early (we've been averaging four weeks).